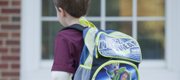 Subscribe to the email edition of First Bell and we'll deliver you the latest local education news and notes every weekday at noon.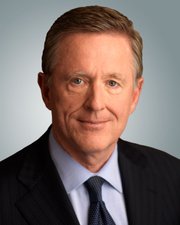 We're still looking for questions we could pose to David Booth, who is coming to Lawrence to be keynote speaker for the Community Education Breakfast this Friday a the Holiday Inn Lawrence, 200 McDonald Drive.
Here's the deal: Booth is a 1964 graduate of Lawrence High School, is chairman and co-CEO of Dimensional Fund Advisors, and is the guy who paid $4.33 million back in December to acquire James Naismith's original rules of "Basket Ball," a two-page document expected to be the featured attraction for a future display at or adjacent to Allen Fieldhouse.
Those may provide a few topics of conversation. Or maybe there's something out there we don't know?
Send us your questions. The easiest way: Just add a comment at the bottom of this edition of First Bell. We'll ask Mr. Booth the best questions Friday morning, and report back to you, the interested public.
•••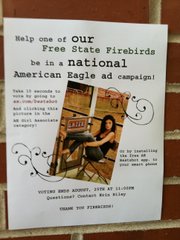 Came across a poster Tuesday at lunch out at Free State High School: It seems Erin Riley, a Free State student, is angling to be featured in a national ad campaign for American Eagle Outfitters.
The apparel company is offering some $50,000 in prizes and opportunities to appear in American Eagle's next photo shoot.
She appears in a photo, available online, for which folks can vote to give her a shot.
So here's the address, folks: Go to www.ae.com/bestshot and offer your support. Voting ends Thursday.
Some of the guys I saw at a lunch table figure she should win.
"She's cool," said Andrew Merritt, a junior.
•••
Administrators in the Lawrence school district have plenty of reasons to hope that initial, unofficial enrollment numbers hold during the coming weeks. The 526-student increase indicated in early numbers would mean extra dollars from the state to spend on educating kids.
But one aspect of the numbers indicates another version of good news: With Lawrence High School having only 22 more students than Free State — remember, a year ago at this time the two schools had one fewer grade level, but Lawrence High had 159 more students, a year after the spread had been even larger, with Lawrence High having 259 more — the district more easily can spend its increasingly scare finances even more equitably.
"When the schools are more equal in size, it helps us allocate money," said Rick Doll, district superintendent. "If the difference continues to get greater and greater, eventually we'd have too much space at Free State and not enough space at Lawrence High. From a pure facilities standpoint, this is a good thing."
Copyright 2018 The Lawrence Journal-World. All rights reserved. This material may not be published, broadcast, rewritten or redistributed. We strive to uphold our values for every story published.