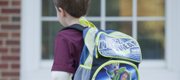 Subscribe to the email edition of First Bell and we'll deliver you the latest local education news and notes every weekday at noon.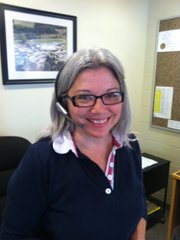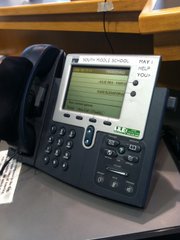 Some news and notes from education circles here in Lawrence...
So you think it's difficult getting used to the idea of ninth-graders on high school campuses, or sixth-graders in middle schools, or elementary schools ending at fifth grade.
Try sitting in Julie Rea's chair — or, more to the point, answering her calls.
Eight years ago Rea started answering phones at South Junior High School, and even though she's still behind the came desk, the school's name change to South Middle School this summer has prompted a change in her familiar greeting.
After some 200 calls a day, 213 days a year — that's 42,600 greetings, my calculator tells me — Rea affixed a reminder message on her phone, to help prevent her from slipping up.
"It is different," she said calmly, before answering yet another call — South Middle School. May I help you? — Wednesday afternoon in the office.
•••
I'm wondering how folks are adjusting both to the idea, and the new reality, of ninth-graders enrolled at Free State and Lawrence high schools.
Lawrence High Principal Matt Brungardt, for one, doesn't appear fazed that his campus is welcoming freshmen for the first time in its 57-year history. The former Liberty Memorial High School apparently didn't make room for ninth-graders back in the day, either.
Times change, it seems, and students, staff and teachers are ready to embrace the four-year system that has been in place elsewhere for some time now.
"We're sitting around going, 'Freshmen!?' and everybody else is going, 'You haven't been educating freshmen!?' " Brungardt said this week, acknowledging the historic nature of the change locally but emphasizing the lack of interest virtually anywhere else. "The whole rest of the world has been doing this. Everybody has been doing this. It's not like we're on the cutting-edge."
•••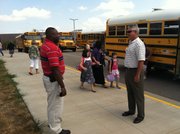 Wednesday's orientation sessions at South Middle School offered more than chances for new sixth- and seventh-graders to see their educational home for 2011-12.
A new traffic-flow system also was in full effect.
The district spent $18,000 this summer to install a new "cross through" between the parking lots at South and Broken Arrow School next door. The district also made the south access point for the Broken Arrow lot an "exit only," a move designed to ease traffic congestion.
Lynn Harrod, assistant principal at South, expects the new system to work well, at least once everyone becomes familiar with the new setup.
"Today it's worked extremely well," Harrod said, as students climbed aboard idling buses. "I want to see what we have with a full population.
"As all parents get educated with the system — the new flow — it should move smoothly."
Copyright 2018 The Lawrence Journal-World. All rights reserved. This material may not be published, broadcast, rewritten or redistributed. We strive to uphold our values for every story published.