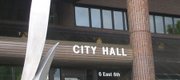 Subscribe to the email edition of Town Talk and we'll deliver you the latest city news and notes every weekday at noon.
News and notes from around town:
• Indeed it looks like all that speculation about Jos. A. Bank men's store coming to the corner of Seventh and Vermont streets is correct. The clothier has filed for a sign permit, according to City Hall records. Now that there is a little more substance to the speculation, I'll see if I can't get some comment out of the national retailer — such as a timeline for opening.
• One of Lawrence's members of Congress is getting some national attention today. The Washington Post has a large story about Rep. Kevin Yoder, the freshman Republican who represents Lawrence's Third Congressional District. The article is about how Yoder and Rep. Emanuel Cleaver, a Democrat that represents a Kansas City, Mo., district, both voted against the debt ceiling deal — but for very different reasons. The article was No. 1 on The Post's most popular list this morning. Lawrence does get a mention in the piece. The reporters describe Yoder's Third District by saying it "stretches from the Democratic-leaning downtown Kansas City, Kan., to the liberal academic community around the University of Kansas in Lawrence." But readers around here may find some of the descriptions of Yoder more interesting. The article notes that he was known as a moderate Republican in the Kansas Legislature, and that some of his more recent speeches don't seem to be following the Tea Party line.
"But Yoder hardly sounded as if he was courting the tea party in his appearances. He does not call the health-care bill 'Obamacare,' and he blamed both the administration and congressional leadership for creating a 'hysteria' that he said got in the way of reasoned debate," the article says.
The reporters go on to note that he is one of six GOP members of the House of Representatives who have not signed the no-taxes pledge, and the article says Yoder believes House Republicans made a mistake by giving up on trying to find a 'grand compromise' with Obama.
• I don't know if it is a grand compromise, but Lawrence City Hall leaders did want to try to do something to make their street maintenance dollars stretch a little further. So, what they did for this summer is have city employees start doing some types of maintenance work that originally had been bid out to private contractors. In particular, city crews are now doing the crack sealing of roads. The city recently has received a report on the results. The bottomline seems to be that the work is going a bit slower, but city engineers are happier with the quality. And here's the big one: The city has saved $70,000 compared to what it would have paid a contractor, according to the city's analysis of past crack sealing contracts.
• As we reported earlier this year, work is underway to clean up and straighten some of the old tombstones at Lawrence's Oak Hill Cemetery. The effort is part of the idea that Lawrence may start getting some more tourists interested in the Civil War era, and tombstones may be something they'll want to see. Plus, part of the idea is straightening tombstones is just something you should do from time to time, if you run a cemetery. (If you don't run a cemetery, I wouldn't suggest it.) City Hall leaders recently received a report on that project as well. Through the summer, crews have cleaned about 300 grave markers, straightened 200 stones, and lowered about 75 to make them flush with the ground. Here are some before and after photos. It sounds like the project will continue on for quite awhile longer.
• If you have read this column before, you know my interest in gasoline prices. Well, this morning, oil futures fell $3.71 and were at about $83 per barrel, which is their lowest level since mid-February. So, I wonder if gasoline prices are going to start falling locally. I noticed this morning that on East 23rd Street, prices ranged from $3.59 to $3.54. That's an improvement. They had been $3.59 to $3.61 before the weekend. But in an item I have noted many times, some sort of magic still exists on Kansas Highway 10. That's because the Kwik Shop on the eastern edge of Lawrence is selling gas at $3.55 per gallon, while its sister station just six miles down K-10 in Eudora is selling it at $3.48 per gallon. The magic isn't quite as strong as it used to be. The price difference was 11 cents per gallon for weeks. In case you are wondering, according AAA Kansas, the average price for the state is $3.57 per gallon, which is what AAA lists the average price in Lawrence. Lawrence, though, is higher than the Kansas City, Kan., average at $3.53 per gallon and Topeka at $3.44 per gallon.
Copyright 2018 The Lawrence Journal-World. All rights reserved. This material may not be published, broadcast, rewritten or redistributed. We strive to uphold our values for every story published.