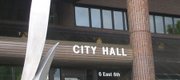 Subscribe to the email edition of Town Talk and we'll deliver you the latest city news and notes every weekday at noon.
News and notes from around town:
• Maybe Lawrence is set to become the capital of cool cars. At least a new start-up business hopes so. A group of entrepreneurs has rented downtown office space to serve as the headquarters for a new website called Rides.com. The site — scheduled to launch July 4 — is billing itself as the first major social networking site for auto and motorcycle enthusiasts. The site will give registered users the chance to have their own Facebook-like page to highlight their cool rides. It also will host "virtual car shows," multiple forums broken down by topic and brands, and run an online swap meet where people can sell and trade parts. The website isn't your typical Internet start-up out of somebody's garage (although that has worked extremely well for some people). Instead, Rides.com has backing from the very beginning. The CEO and owner of the company — John Chance — is part of Wichita-based Chance Morgan, which is one of the more famous roller coaster and amusement park design firms in the world. The company had owned the domain name Rides.com for years, but had never really developed it for its amusement park business. Chance is a car enthusiast, and had noticed where there aren't really many websites devoted to multiple brands. Instead, most car websites either are focused just on Chevys or just on Fords or so on, said Frank McGuinness, the company's marketing director, who also is based out of Lawrence. Rides.com clearly is hoping to become a one-stop shop for gearheads and aficionados. Early returns suggest they might be on to something. The company started a Facebook page less than 30 days ago, and already have more than 500 likes. The company also has hired a major website designer — ONEsite — to build the site. ONEsite are the designers behind several major sites including, NASCAR, Fox Sports, and American Idol. It also has done quite a bit of work for some company that has made a few dollars on the Internet — eBay. Rides.com has its offices in space above Milton's on Massachusetts Street. Currently Chance and McGuinness are based out of the office, but the company hopes employment needs will grow.
• Folks heading out to Lawrence cemeteries for this Memorial Day may notice something a bit different at a couple. Lawrence Parks and Recreation has undertaken a project to clean the tombstones of Civil War veterans buried in the city. Perhaps not surprisingly, there are a lot. In Oak Hill Cemetery, there are an estimated 700 Civil War veterans and in Maple Grove there are about another 70, Roger Steinbrock, marketing director with Parks and Recreation told me. I'm not sure how many tombstones will be done by this weekend. The effort really hasn't been spurred by Memorial Day but rather by the fact the country is commemorating the 150th anniversary of the U.S. Civil War this year. At the visitors center, there is a brochure that lists the grave locations of several prominent Civil War era individuals. Who knows? The anniversary may prompt a few more visitors than normal, and maybe even a flower or two for the graves of those who were involved in an event that shaped America like no other.
• At one time there was a lot of talk about all that Lawrence and Douglas County could do during this 150th anniversary to highlight our role in the Civil War. For awhile, there even was talk about trying to convince President Obama to come to the county to deliver an address. But all of that talk seems to have quieted down. There are events coming up, however, that play off our Civil War roots, including a major battle re-enactment. The Battle of Black Jack will be re-enacted on June 4 — at 11 a.m., 2:30 p.m. and 5 p.m.— at the Black Jack site east of Baldwin City on U.S. Highway 56. In fact, there will be a whole weekend of events related to the battle. Among them are:
Gospel music and a dramatic reading from 7 p.m. to 9 p.m. at The Lumberyard in downtown Baldwin City.
Lamplight camp tour of the Black Jack Battlefield at 8 p.m. on June 3. The event costs $15 per person, and reservations are required by June 1.
"Black Jack: Dawn of the Civil War" events from 9 a.m. to 7 p.m. at the Black Jack site. In addition to the re-enactments, the event will include food, music, actors portraying historical figures such as John Brown and kids storytelling activities. There is an $8 admission for adults and a $1 admission for children three to 12. For more information on any of the events, contact the Lawrence Convention and Visitors Bureau at 785-856-LCVB.
• A sack lunch and smooth music have become a bit of a summer tradition in Downtown Lawrence with the city's Brown Bag Concert Series. Lawrence Parks and Recreation will host the series again this year. It begins on Thursday. All shows are from noon to 1 p.m. in front of the U.S. Bank Tower at Ninth and Massachusetts. Admission is free. Here's a look at the schedule:
June 2: Billy Spears Beer Bellies
June 9: Key West Jazz Quartet
June 16: Good Ole Boys
June 23: Paul Gray
June 30: Too Much Fun
July 7: Lonnie Ray Blues Band
July 14: Billy Ebeling & the Late for Dinner Band
July 21: Borderline Country
July 28: Special Guest Band
On days of inclement weather, the concert will be moved to Watkins Community Museum, 1047 Mass.
Copyright 2018 The Lawrence Journal-World. All rights reserved. This material may not be published, broadcast, rewritten or redistributed. We strive to uphold our values for every story published.