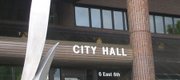 Subscribe to the email edition of Town Talk and we'll deliver you the latest city news and notes every weekday at noon.
News and notes from around town:
• Last week J-W reporter Karrey Britt broke a story about how the Bert Nash Community Mental Health Center is close to finalizing a deal to purchase the VFW property at 138 Ala. St. in the Pinckney neighborhood. The leader for Bert Nash — which has its offices nearby in the Community Health Facility at 200 Maine — said the purchase of the 13 acres is for "future plans and a strategic direction." But he declined to give any more details. Well, I don't have anything official to report, but I can tell you the talk that has been going around town. If you remember, local real estate leader John McGrew long has had a desire for an outdoor wellness campus. Originally he proposed building it on parts of 125 acres owned by the school district and the city near the eventual intersection of the South Lawrence Trafficway and Kansas Highway 10. The long-range plan for the project included walking trails, a pond, a special baseball field for players with disabilities and other features. But school district officials balked at the idea, and cut off talks with McGrew.
Now there is talk that the 13 acres of VFW property could be used to house a scaled-down version of what McGrew envisions. The property already includes a pond and some walking trails, but it largely has been closed to the public. McGrew has advocated that a outdoor wellness area is an important health issue for the community. He is the founder of the group Outside for a Better Inside that advocates children need to spend more time outdoors. He previously has said he can envision an outdoor wellness center being used by local groups such as the school district and Lawrence Memorial Hospital to teach classes and provide activities related to healthier living. The property is well-situated in some regards. It is just down the street from LMH. And although it is smaller than what McGrew originally proposed, it is near the city's Burcham Park and the Kansas River, which provides more opportunities for public outdoor space.
Who knows what other plans Bert Nash has for the property, since the organization isn't talking. The site certainly is large enough to house a new headquarters building, if the organization ever runs out of room at its current spot. Bert Nash also has an ownership interest in a private medical software firm that may need space at some point in the future. It will be interesting to see if public officials seek more details about Bert Nash's plans. The organization isn't planning to use public money to fund the $825,000 purchase price for the property. But Bert Nash does receive significant amounts of public funding, in addition to being housed in a publicly owned building.
• Also in the category of nothing official but lots of talk: Rumor has it that Jos. A. Bank is the retailer that is set to take over the old Talbots location at the northeast corner of Seventh and Vermont streets. Allison Vance Moore, a broker for Colliers International, previously confirmed she has a letter of intent for the space. But she hasn't made any announcements about the retailer, other than to say that she believes it will excite folks in Lawrence. I had heard the new retailer previously described as a general merchandise retailer, which is not how I would describe Jos. A. Bank. As its web site says, it is an expert in men's apparel. So, I wouldn't necessarily consider the case closed on this one, but I'm passing it along anyway because I've heard the rumor from multiple sources that are pretty well plugged into the real estate and development industry. Jos. A. Bank does have several stores in the Kansas City area. It has four in Kansas City, both in malls and freestanding stores, and also has one in Lee's Summit, Mo. I'll be keeping an eye on it. Unlike many of you, I still have the pleasure of wearing a tie five days per week.
• Lawrence city commissioners at their meeting on Tuesday will do more than just approve the 2012 budget. They'll also consider raising several fees for 2012. I expect one of them to at least draw some formal opposition from the local construction industry. City staff is proposing to raise the system development fee that is charged to all new homes constructed in the city. The one-time fee — which is paid at the time of construction — is designed to help the city cover some of its costs for providing infrastructure for new development. The city is proposing to increase its fee for a standard home by $340, or an increase of about 11 percent. The new fee will be $3,370.
Bobbie Flory, executive director of the Lawrence Home Builders Association, told me the 11 percent fee increase is tough to swallow during a time when the construction industry has been hit hard by the economy. Some communities — Eudora is the one nearest Lawrence — actually have been reducing their development fees in an effort to spur construction.
It will be interesting to see if commissioners back off the proposed fee increase. And if they do, then will they back off the proposed increases for city water and sewer rates? Certainly, not just builders have been hurt by the economy. Both of those monthly fees are set to go up — although, not by 11 percent. As previously reported, staff members are proposing that water and sewer rates each increase by 2 percent for 2012.
• Getting a traffic ticket in Lawrence also could end up costing you more, thanks to the 2012 budget. The city is proposing to increase court costs at Municipal Court by $7, bringing the total to $60. A standard traffic ticket in Municipal Court carries a fine of $80, meaning the new total for fines and court costs would be $140. As for how that compares to other places, it is higher than some but lower than others. Overland Park and Olathe both have totals fines and fees that are less than $130, but Douglas County District Court charges a total of $168.50.
Copyright 2018 The Lawrence Journal-World. All rights reserved. This material may not be published, broadcast, rewritten or redistributed. We strive to uphold our values for every story published.