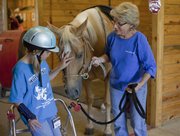 There's something almost magical about the therapy horses at CLO's Midnight Farm in Baldwin City, the way they soothe, encourage and delight their riders that captivates Leann Williams.
It's the reason she's volunteered more than 400 hours at Midnight Farm since the program was launched in 2009, working as a sidewalker and horse leader in the equestrian program for children and adults with special needs.
Williams can't get enough of the daily miracles: Seeing someone who had never talked before begin to speak once astride a therapy horse. Watching riders who were petrified of the 1,000-pound beasts relax -- and even laugh -- when riding, gaining much-needed self-confidence they will draw upon in the future. Witnessing children and adults who are used to looking up at the world from the confines of a wheelchair enjoy a new view from atop a horse, with everyone looking up at them for a change.
"There is something about people and horses," Williams says.
Bonnie Bruns, volunteer coordinator for Midnight Farm, might add, "There's something about Leann Williams and people and horses." Bruns is so amazed by Williams' ability to work with horses and special-needs riders, her dedication and reliability, her willingness to do anything that needs to be done on the farm and her unflappable cheerful nature that Bruns nominated Williams for the 2010 Wallace Galluzzi Outstanding Volunteer Award, given annually by the United Way Roger Hill Volunteer Center.
"How the leader feels about the horses and the riders can really impact how the horse behaves in class and how the lesson goes for the rider," Bruns explains. "Leann is always positive and caring for the horse and rider, and that transmits to both. It makes the lesson a special time for the riders."
Bruns was looking for a new adventure when she and her husband, Bob, moved from Overland Park to a farm outside Baldwin City. Volunteering for Midnight Farm seemed like a natural fit for this former high school math teacher with a lifelong love of horses.
Little did she know that her volunteer gig would become so personal. When her grandson, Corbin, was born with Moebius syndrome, a rare neurological disorder that causes some paralysis, Williams knew immediately that he would benefit from equine therapy. As riders sit astride a horse, following its rolling motion as it walks, they build core strength, flexibility, balance, joint mobility and coordination. Even though she's witnessed the benefits of equine therapy time and again, Williams was still thrilled to see Corbin grow stronger as a result of his time spent riding.
It's volunteers like Williams who make such turnaround experiences possible for people with special needs, Bruns says. This fall, Midnight Farm plans to expand its program to serve 70 riders, but to do so it needs more volunteer horse leaders and sidewalkers. "We have 50 active volunteers right now, and, ideally, we would like to have 80 to 100," Bruns shares.
For information on Midnight Farm and volunteer opportunities, contact Bruns at (785) 979-1889 or bonniebruns@clokan.org, or visit www.midnight-farm.org.
Copyright 2018 The Lawrence Journal-World. All rights reserved. This material may not be published, broadcast, rewritten or redistributed. We strive to uphold our values for every story published.