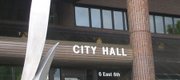 Subscribe to the email edition of Town Talk and we'll deliver you the latest city news and notes every weekday at noon.
News and notes from around town:
• I hate to be a killjoy, but … Some of you may have noticed the news yesterday that Lawrence landed on Forbes' list for the Small Best Places for Business and Careers. Lawrence ranked 43rd on the list. First of all, Lawrence has always been on the list. Every metro area under about 300,000 gets ranked whether they want to or not. There was a time Lawrence economic development leaders were very excited about being on the list. Now, I'm not so sure. Lawrence's performance on the list peaked in 2004 when the city ranked sixth on the list. In 2003, we were seventh. In 2002, we were ninth. In terms of whether our 2011 ranking of 43rd at least marked a move in the right direction, it didn't. Lawrence was ranked 21st in the 2010 list.
For fun, I found an article I wrote about the list in 2003, when were in the middle of our top 10 run. Back then our showing on the list really was a good selling point. We were the top ranked small metro area in all of Kansas and Missouri. Back then, we were told that was a big deal because those were the communities we most often competed with for major projects. Now, of course, we're not the top ranked small metro area in Kansas or Missouri. Manhattan got all the headlines by taking the No. 1 spot on the list. (My 8-year old son tells me he's still not going to wear purple.) Here's a look at how other area cities fared:
Manhattan: No. 1
Columbia, Mo.: No. 8
Iowa City, Iowa: No. 13
Ames, Iowa: No. 24
Lawrence: No. 43
Jefferson City, Mo: No. 55
Joplin, Mo.: No. 59
St. Joseph, Mo. No. 92
Topeka: No. 102
Lawrence fares as well as it does on the Forbes list because we do really well in one category: Our educational attainment. In fact, we ranked No. 1 on the list in that category. But the category that many community leaders want to rank No. 1 on is job growth. We ranked 88th out of the 184 communities that were ranked. Of that list of nine regional communities above, we rank last.
One last number for you. I went back and looked at our ranking for each of the last 10 years. Our ranking in 2011 was our third worst out of the last 10 years. Our lowest ranking came in 2006 when we were 60th. We also were at 49 in 2007. Our average ranking over the last 10 years has been about 26th. Now we're at 43. I wonder how everyone would feel if KU's men's basketball ranking dropped so much.
• The 2003 article from above was fun to read. It quoted Lynn Parman, who was the chamber's vice president of economic development during that time. I've heard her name brought up around town recently. As the chamber searches for a new president and CEO to replace the departing Tom Kern (remember, he's taking a similar job in Steamboat Springs), I expect Parman's name to get mentioned. So far, it seems the chamber wants somebody who has some Lawrence experience. But there is news about Parman that some in Lawrence may not be aware of. Parman left Lawrence about six years ago to go to the Kansas City Area Development Council, where she headed up the group's efforts to attract bioscience companies. Well, earlier this year she left the development council to join St. Joseph-based Boehringer Ingelheim Vetmedica Inc. She's now a director of sales and marketing support functions for that company. I still expect her name to come up, but I have no insight into whether she has any interest in returning to Lawrence or a chamber position.
While we're wildly speculating about the Chamber job, going through the list of Forbes rankings for the past 10 years did familiarize me with several smaller communities that seem to stand out for a good business reputation. Sioux Falls, S.D., seems to be to that Forbes list what Kansas basketball is to the A.P.'s Top 10. I'm not certain, but I believe Sioux Falls was ranked in the top 10 every year for the last 10 years. Bismarck, N.D., also was close behind. Anybody got any connections up north? We could tell them that we have Miami-like weather.
• Expect some discussion out of City Hall about a new West Lawrence recreation center. A couple of members of the city's Parks and Recreation Advisory Board came to the city's budget hearing Tuesday night and expressed frustration that the City Commission hasn't done more to communicate whether it is behind a recreation center project or not. The two board members — Joe Caldwell and Kevin Loos — asked commissioners to have a study session with the recreation board. The hope is the city can spell out at least a five-year vision for the department and any new projects it hopes to undertake. Commissioners said they thought a study session sounded like a good idea, but did not set a date.
• There's ordinary crazy at City Hall, and then there is what we saw Tuesday night during the public comment section of the meeting. I was tending to a couple of details in my notes, when a fellow in a blazer and slacks steps to the lectern and starts by asking whether "it would please the court" if he could have five minutes of time. He then launches into a plea for parades. Understand, I've sat through nearly 20 years of public comment sessions at City Hall, so at this point I'm still dividing my attention. But then the fellow pulls out his own portable music box, complete with dramatic-themed music. The guy was Mike Anderson, the host of the Not So Late Show, a comedy program on Knology's Channel 6. What he was advocating was to use Downtown Lawrence for a parade unlike any Lawrence has seen — "a parade that our grandchildren's grandchildren's grandchildren will remember forever." Then a pair of cheerleaders with pom-poms enter the room. OK, so now I'm paying a little more attention. (Near this point, I start to film the speech. The video now can be found to the side of this article.) Anderson is calling for a parade that would honor the 1980s. Anderson said think of tributes to "Top Gun," Ronald Reagan, leg warmers. Anderson made it sound like much is on the line for Lawrence. At one point he told a story about a young man who ended up living a life of grand larceny. His hometown: One parade a year. Then he told about the inventor of the hula-hoop. His hometown: Five parades a year. How about American legend Davy Crockett? His hometown: Seven parades a year. Commissioners took the comments in stride. I believe Mayor Aron Cromwell knows Anderson, but I don't think Cromwell knew such public comment was coming his way. Cromwell said the city would take the request under advisement. Afterward, Anderson said he is "dead serious" about wanting to have a 1980s parade in downtown. He said he's even begun the process of contacting Steve Guttenberg to serve as grand marshal.
"I'm a fan," Anderson said.
Copyright 2018 The Lawrence Journal-World. All rights reserved. This material may not be published, broadcast, rewritten or redistributed. We strive to uphold our values for every story published.