A tough economy didn't stop the Lawrence area from climbing up two spaces to become the seventh-best small city in the country for business and careers, according to the latest rankings by Forbes magazine.
The Lawrence metropolitan area, which includes all of Douglas County, jumped from ninth place to seventh place on the recently released list. Lawrence has been ranked in the top 20 since the business and finance magazine began the rankings in 2000, but the seventh-place finish is the community's highest ranking.
Lynn Parman, vice president of economic development for the Lawrence Chamber of Commerce, said she was "thrilled" but wasn't surprised that Lawrence improved its ranking even though the area economy has struggled.
"I think the presence of KU has a dramatically positive effect on our economy, both in terms of the education levels of our populous and in terms of how the university diversifies our economy," Parman said. "I think that has really helped us."
The survey ranked 168 metropolitan areas that have less than 330,000 people in population. It ranked the areas in eight categories: cost of doing business, housing affordability, educational attainment, residents with advanced degrees, crime rates, job growth, income growth and net migration.
The two education categories helped propel Lawrence toward the top of the list. Lawrence ranked fourth out of the 168 communities in terms of residents with at least a bachelor's degree. It ranked 11th in terms of people with a doctorate degree.
Parman said the educational categories were important because businesses consider such factors when evaluating the quality of an area's work force.
"A lot of communities are struggling with high school graduation rates," Parman said. "This just shows we're in a whole different league."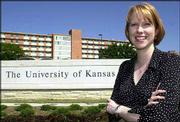 Lawrence also ranked in the top half of every other category the magazine measured, except for affordable housing. Lawrence ranked 108 out of the 168 communities in the affordable housing category.
Parman said that is an area that business leaders likely would need to keep an eye on in the future.
"I'm hearing quite a bit about the lack of affordable housing in Lawrence," Parman said. "I'm hearing from companies that a majority of their entry level positions don't live in Lawrence because of the housing situation."
The community, though, ranked well above average in terms of job growth during the last five years (33rd), income growth during the last five years (26th) and cost of doing business (56th).
Luke Middleton, an economist with KU's Policy Research Institute, said Lawrence likely benefited from being in the Midwest, particularly in the cost of doing business category. He said the cost of doing business in the Midwest was often lower than on the coasts because wage rates are often lower, along with other costs, such as utilities.
Here's a look at the top 10 small cities for business and careers as rated by Forbes magazine in its most recent issue. The magazine rated 168 metropolitan areas with populations less than 330,000.

1. Sioux Falls, S.D.2. Iowa City, Iowa.3. Fayetteville, Ark.4. Lincoln, Neb.5. Fargo, N.D.6. Rochester, Minn.7. Lawrence8. Rapid City, S.D.9. Santa Fe, N.M.10. Cedar Rapids, Iowa.

Other Kansas cities:32. Topeka
Middleton also cautioned people to not read the rankings and assume Lawrence's economy is booming. He said it was not. For example, Lawrence's job growth has declined significantly since the survey was taken in 2002. In 2002, the area had a five-year job growth rate of 5.3 percent. In 2003, the five-year average dropped to 2.1 percent. Lawrence's ranking in that category, though, increased from 47th to 33rd.
"These rankings really aren't any indication of the economy's performance," Middleton said. "It is a comparison of how our economy is doing against other economies. It shows that those other economies have been hurt worse than ours."
Parman said the ranking should help her department in recruiting and retaining existing businesses. She said the department used the ranking in most of its printed marketing materials.
"It really helps us establish some credibility nationwide," Parman said.
Parman said the department also would tout that Lawrence had the highest ranking of any city in Kansas or Missouri because 60 percent of the time the department is competing with other Midwestern cities.
Copyright 2018 The Lawrence Journal-World. All rights reserved. This material may not be published, broadcast, rewritten or redistributed. We strive to uphold our values for every story published.