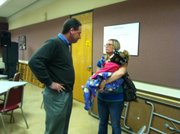 Related document

Gov. Brownback's letter to KDOT Secretary Deb Miller ( .PDF )
Olathe — Kansas Department of Transportation officials told reporters Friday afternoon that cable median barriers on divided highways weren't a "silver bullet" in stopping all accidents as the state studies the safety of Kansas Highway 10
"Cable barriers are not benign. They don't solve all the problems and can in some situations create problems," KDOT Secretary Deb Miller said Friday. "So our deliberations must center on whether they provide more benefits or create more liabilities. The question isn't: Do we have the money? The question is: Is this the right strategy?"
Miller and state transportation engineer Jerry Younger spoke to the media days after Gov. Sam Brownback directed Miller to reopen a study into the use of cable barriers on K-10 between Lawrence and Kansas City.
Two Eudora residents, 5-year-old Cainan Shutt and 24-year-old Ryan Pittman, died in a crossover crash east of the Church Street interchange, leading Eudora Mayor Scott Hopson to write a letter to Brownback asking the state to immediately install cable median barriers from Lawrence east to Interstate 435 in Johnson County.
Brownback also directed KDOT to expedite a project to be completed this year to widen the shoulders and install rumble strips along K-10 in Douglas County. Those features are already in place in Johnson County.
Ali Shutt, Cainan Shutt's mother, after the news conference said her family and supporters were thankful for Brownback's directive but said the state needed to do more than just install rumble strips on K-10. She said cable barriers would help prevent dangerous cross-median accidents that often result in head-on collisions.
"We realize that this still could cause accidents, but it's going to save the next person on the other side," Shutt said.
Miller and Younger said cable median barriers have proven to be effective, especially on Missouri highways, but they said generally Kansas fatalities from cross median crashes have been low compared to other states.
Kansas Highway Patrol troopers have said they are still investigating the cause of the April 16 crash, including the possibility that drugs contributed after a preliminary autopsy indicated marijuana, benzodiazepine and methadone were in the system of Pittman who drove the car that struck the westbound minivan Cainan Shutt was riding in.
Miller said KDOT would meet on May 12 with city officials, including from Eudora and Lawrence, to talk about forming a local group to provide input for the cable median study.
Copyright 2018 The Lawrence Journal-World. All rights reserved. This material may not be published, broadcast, rewritten or redistributed. We strive to uphold our values for every story published.