A few education-oriented items from around the area and elsewhere:
Members of the Lawrence school board will have a chance tonight to mull anticipated budget cuts for the coming school year.
Administrators already have advised board members to anticipate a loss of $3 million in base state aid for the coming year. Administrators have recommended using reserve funds to help make ends meet, and other initiatives — including expansion of bulk purchases, reclaiming the Adult Diploma Completion Program, and not filling one teaching position at each of the high schools that had been expected to be added for the coming year — are in the works.
Board members already have decided to close Wakarusa Valley School, a move expected to save nearly $500,000.
Among additional options up for discussion during tonight's meeting, which begins at 7 p.m. at district headquarters, 110 McDonald Drive:
• Cut $21,000 to high schools for "site activities."
• Cut $57,975 by eliminating four half-time positions of attendance secretaries at middle schools.
Those are among the top-priority cuts recommended by administrators.
In all, the district has identified nearly $1 million in potential additional cuts. Among them is a "redesign" the system for providing school nurses in schools, noting that an average nurse costs the district $55,046 while a health office assistant costs $22,353.
Others potential cuts include elimination of coaching positions for cheerleading in middle schools, assistant coaches at high schools, and coaches for bowling, golf, swimming/diving and gymnastics.
Increasing the pay-to-play fee for sports and activities by $25 would be expected to generate about $50,000.
Also listed: Eliminate a position in administration, which would be expected to save $80,000; and eliminate two middle school guidance counselors, which would save $135,996.
Boosting the district's staffing ratio by 0.25 would be expected to eliminate five jobs, for an estimated savings of $250,000.
•••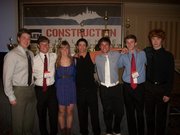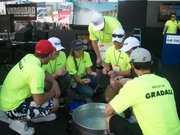 Seven Lawrence High School seniors recently enjoyed VIP treatment in Las Vegas, thanks to skills learned and built up through their classroom work.
Collin Belcher, Stephen Bell, Steve Cowser, Emily Davidson, Ross Johnson, Darrin Sorem and Matt Zabel traveled to Vegas for the national Construction Challenge, where they won sixth place the contest that gives students real-world experience in the construction industry.
The competition included using a set of drawings to build a small-scale vehicle, then use it to transport materials to a job site — over a mountain, across a bridge and down a rural road — and construct a building, all in a matter of minutes.
The challenge drew 24 teams, which had qualified from nine regional competitions. The Lawrence High team had qualified after competing in Enid, Okla., and was sponsored in Vegas by Gradall Industries.
The trip to nationals was the second for an LHS team. Two years ago, construction-minded Lions finished 12th.
Johnson said he and his colleagues learned plenty about teamwork while picking up critical-thinking skills and other things they'll be able to use throughout their careers.
Sorem, who plans to study engineering at Kansas University, described the trip as an "experience of a lifetime."
Students on the team took engineering, architecture and computer-aided drafting classes from Charlie Lauts, industrial arts teacher at Lawrence High, who led the students on the trip.
•••
The Families in Need Fund at Hilltop Child Development Center is the beneficiary for the Hilltop Hustle 5K Run/Walk and 1K Family Fun Run, set for 8 a.m. Saturday beginning at the center, 1605 Irving Hill Road.
The certified 5K course — described by organizers as "moderately hilly" — runs on and around the Kansas University campus. It passes Allen Fieldhouse, makes its way to Jayhawk Boulevard and to a turnaround at the Kansas Union, then back toward residence halls on Daisy Hill for a downhill finish along Irving Hill Road.
Registration for the 12h annual event is $25 for the 5K, and $5 per person or $10 per family for the 1K. More information about the race is available online.
Hilltop has been serving the child care needs of the KU community since 1972.
— The First Bell mailbox is always open. Please feel free to send me any feedback or ideas, at mfagan@ljworld.com.
Copyright 2018 The Lawrence Journal-World. All rights reserved. This material may not be published, broadcast, rewritten or redistributed. We strive to uphold our values for every story published.