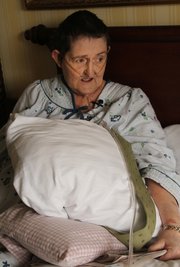 Five and a half years ago, Sandara K. Meyer left her home in her nightgown and slippers in the middle of the night. Her husband broke his shoulder in three places from a fall while leaving the apartment.
Early Wednesday morning, Meyer was forced to leave her new home for the same reason: a fire.
Meyer and her husband, Ron, are survivors of the 2005 Boardwalk Apartments fire, but their apartment and belongings were destroyed in the tragedy. Wednesday morning, the couple had to leave their duplex near West Second Terrace and Michigan Street after the other unit caught fire from a burning mattress outside. Meyer's unit was damaged from the smoke — two days before her 69th birthday.
It's Meyer's second displacement from a fire in six years, and now she's stuck living in a hotel room with her husband, two poodles and cat until her home is deemed safe for her return. Meyer has only 11 percent use of her lungs, and any remnant of the smoke can bother or injure her. But Wednesday morning around 3 a.m., she had to leave as fast as possible after the police knocked on the door.
"They just said, 'Get out,'" she said.
Meyer is no stranger to tragedy. She clinically died twice and was revived while in the hospital a few years ago from some lung problems. She can't walk, so her husband must stay home to care for her. Her son recently died from a heart attack at 39. She still has nightmares from the Boardwalk fire, and can have panic attacks when she smells smoke or even sees fire on TV.
She says she hasn't dealt with the fire from Wednesday yet, but she wasn't doing well the night it happened. The firefighters who responded to her duplex included some who responded to Boardwalk years ago, and they recognized her.
"The fireman said, 'I don't remember you but I remember your two poodles,'" Meyer said.
Meyer can't return to her duplex until all the smoke and chemicals have cleared, and she's not sure if her belongings are damaged.
Renter's insurance will cover some of the costs, but hotel rooms in Lawrence are scarce because people are in town for the Kansas Relays. The couple will have to board the animals and head to Kansas City for a hotel room until the duplex is ready. And the birthday plans she had with some of her nine children have to be changed.
But despite her misfortunes, Meyer is happy for what she has, especially the help of the firefighters and Red Cross, and keeps a good attitude.
"I'm a Christian and I'm saved and I know where I'm going," she said.
Copyright 2018 The Lawrence Journal-World. All rights reserved. This material may not be published, broadcast, rewritten or redistributed. We strive to uphold our values for every story published.