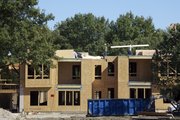 About 1:20 a.m. on Oct. 7, 2005, emergency dispatchers began receiving 911 calls about a fire at a northwest Lawrence apartment complex. In minutes, a fire at the Boardwalk Apartments ripped through 76 apartments. Three people died in what was one of the worst fires in Lawrence history. Five years later, we take a look back.
Today, the 500 block of Fireside Drive in northwest Lawrence is a construction site, where workers are building the shell of what eventually will be an apartment complex.
Five years ago today, the property was the site of one of the worst fires in Lawrence history. In a matter of minutes a blaze tore through the Boardwalk Apartments complex, killing three people and injuring 20 others.
An orange glow from the fire could be seen miles away. One witness said the scene looked like "hell on earth."
Some of the complex's residents ran through the fire to escape; others jumped from third-floor balconies, breaking legs.
Today, the lawsuits resulting from the fire have been settled, victims have been compensated, and a convicted arsonist is in prison.
Half a decade later, some of those involved in the tragedy describe its lasting effects.
'It's kind of back to normal'
Since the fire, Leigh McHatton, a Kansas University graduate, says she's more cautious, has more empathy and better appreciates the fragility of life.
"I have a greater awareness of how life can end at any moment," said McHatton, who now lives in Overland Park and works with people with disabilities as a certified brain injury specialist.
But she wants to make it clear that in the years since the fire the wounds have healed, physically and emotionally.
"I wouldn't say it defines me anymore," McHatton said. "It's kind of back to normal."
McHatton suffered burns to her hands, feet and face. After the fire, she went back home to Colorado for a few months, but returned to KU the next semester to finish a degree.
Five years later, the physical injuries are a "minor inconvenience." She has to be careful in the sun, but that's about it.
Psychologically, McHatton said, she has made it a point to not let certain triggers, such as the smell of fire, keep her from enjoying life.
"I don't let them prevent me from enjoying situations like sitting next to a fireplace or around a campfire," she said.
McHatton said the experience has helped her professionally, especially with her clients who have suffered a brain injury as a result of some terrible event of accident.
"I reference the experience daily in my work," she said.
McHatton said her faith helped her through and, as she looks back on what she and others endured, she describes it as a painful but valuable process.
"Perspective is invaluable when you learn what is really important: faith, friends, kindness and compassion," she said.
'It doesn't go away'
You won't see the cat, so you have to take Sandy Meyer's word that her skittish feline is hiding somewhere in her Lawrence home. The cat, named Number One, is good at hiding, especially from danger. On Oct. 7, 2005, Number One climbed into the rafters during the Boardwalk Apartment fire. Seven days later, Number One was found, injured, but alive.
Meyer's other cat, Number Two, along with just about everything else in her old apartment, didn't survive the blaze.
Meyer and her husband had already fallen on hard times, and the fire just added to their troubles. She was in deteriorating health, having just suffered a heart attack. She had to quit her job, and the couple had moved into the Boardwalk Apartments as a downsizing measure.
"This was the cheapest one we could find," said Meyer of their move.
In addition, Meyer's 39-year-old son had recently died of a heart attack. The photos of him she kept on the refrigerator were destroyed in the fire.
As the fire raged, Meyer, who has lung problems, struggled to get downstairs. Her husband, Ron, went back to find their dogs and cats. He ended up breaking his arm during a fall while running out of the apartment.
After the fire, the couple bounced around, living with family members and struggling to keep up with medical bills. Five years later, they've gotten back on their feet, They now have a home in north-central Lawrence.
But Meyer said the experience left her with psychological wounds.
She talks about a green colander she had used for decades, something all of her nine children remember from growing up. They called it the "green thing." For about a year, when she cooked, she'd look around for the colander, then realize it had been lost in the fire. It was a constant reminder of the event.
"Whoops, that got burned in the fire," she said. "And that goes on and on and on. That just hits you in the face."
The reminders also bring about frequent panic attacks, triggered by the sight or smell of fire.
"I can't see fire on television or on a newscast," she said. "If I smell smoke, I go into a panic attack. It doesn't go away."
The persevering mother
In less than a week, Nancy Bingham of Wichita will wake up on her daughter Nicole's birthday. It's the fifth year without a birthday celebration, and Bingham has learned how to make the long day go by faster.
"I usually try to plan something, keep busy," she said.
Over the past five years, keeping busy has helped Bingham cope with the loss of Nicole, who was one of three Boardwalk residents who died in the fire.
What helps the most is the activities she does in Nicole's honor. That includes supporting the Nicole Bingham Scholarship — awarded to a KU history student each year — and other charitable acts using money from the legal settlements related to the fire.
Nicole had a serious heart defect, and the family knew an early death was a possibility. There had already been the painful discussions about what Nicole would want when she died.
"I was doing something that she wanted done," Bingham said of honoring Nicole through charitable acts. "That gave me a lot of peace."
Bingham stays connected with some of her daughter's friends, and will meet with a few of them later this year at Nicole's favorite vacation spot: Crested Butte, Mont.
Though Nicole — an only child — didn't have children, Bingham's stepson has since had a daughter. Bingham is now "Grandma Nancy."
"I have a full life," she said.
But as she discusses her daughter, her voice hesitates and crackles. Not much, but just enough to hint that tears are never far away.
"There's still an empty hole," she said.
Copyright 2018 The Lawrence Journal-World. All rights reserved. This material may not be published, broadcast, rewritten or redistributed. We strive to uphold our values for every story published.