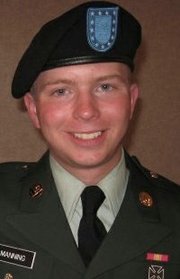 Quantico, Va. — The United Nations' torture investigator says he would reluctantly settle for a supervised jailhouse visit with the soldier suspected of giving classified U.S. documents to WikiLeaks.
Juan Mendez said in a statement Monday that he would still prefer to meet privately with Army Pfc. Bradley Manning at the Marine Corps brig in Quantico, Va. He says confidential interviews ensure the credibility of detainees who have alleged mistreatment.
Mendez says he has not received military authorization for any visit.
Manning has been confined alone 23 hours a day at Quantico since July 29. His civilian lawyer contends the pretrial confinement conditions are punitive. The military says Manning's treatment meets constitutional requirements.
Manning supporters have complained to the U.N. that the military is violating Manning's civil rights.
Copyright 2018 The Associated Press. All rights reserved. This material may not be published, broadcast, rewritten or redistributed. We strive to uphold our values for every story published.