It started on a whim 25 years ago. A chance meeting, flanked by the babbling of toddlers, was the setting. A shared understanding, the catalyst.
And just like that a Lawrence institution was born: the Lawrence Arts Center's award-winning arts-based preschool.
Back then, Linda Reimond was a new mom and former early-childhood education teacher who was getting out of the house with her toddler son by taking him to classes at the arts center.
Past Event
When: Saturday, April 16, 2011, 1 p.m. to 5 p.m.
Where: Lawrence Arts Center, 940 New Hampshire St., Lawrence
-->
-->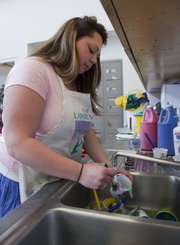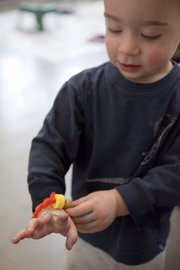 "The education director here at the arts center was from California, and her children, they had just moved here, and her children were in an arts-based program (there)," Reimond says. "And so she's working in an arts center and there's not much going on in the middle of the day. I had taught before and was taking a class with this person and my son, who was 2. And our ideas were very similar of the creative approach to learning. And so, when they decided to try it, she called me."
The program started small — 18 kids meeting in mornings at the center on Tuesdays and Thursdays. Soon, that wasn't enough.
"By January of that year, I think we had added a Monday-Wednesday class," Reimond says. "They did have a one-day-a-week Friday class at that time, and I did not teach the new class that started at that time — I still had a little one at home. Then, it just kept growing and growing and growing."
That growth is evident not only in the fact that the program is celebrating its silver anniversary this year, but also in that fact that the celebration includes a gallery stuffed by works from former students.
The exhibit runs April 11-17, and the center is throwing a 25th anniversary celebration from 1 p.m. to 5 p.m. April 16. Art from the more than 130 current preschoolers will be on display in the large gallery, and the alumni exhibit, aptly called "Still Inspired" will be featured in the small gallery.
Former students from all over the country are contributing what they can, and their art runs the gamut from painting to mixed media. They range in age from arts professionals hovering near 30 to kids who left the program last year to go to kindergarten.
One former student who is happily contributing work is Genevieve Busby, a senior at Brown University who has taken classes at the Rhode Island School of Design, who says the creative play she got during her time at the preschool was life-changing.
"I attribute much of my academic success to a passion for learning, exploration and creative approaches to life that was fostered early on in my preschool experience," she wrote in a letter nominating Reimond for the Kansas Governor's Arts Award, which Reimond won this year. "Through clever activities and open-ended exploration, children are encouraged to creatively play with diverse concepts such as gravity, anatomy, buoyancy, symmetry, story narratives and color theory, to name a few."
Another former student who'll be celebrating the preschool's birthday is Whitney Juneau. At 24, the Lawrence native attended the preschool in its earliest days. Now, she's there again, this time as an art assistant. She says that working with kids every day only enforces her belief that an early arts education affected her path in life.
"I was a singer and I did musical theater at KU. That was the route in art that I took," she says as 2-year-olds fly past her on their way to climb ladders and drop paint-bomb socks onto paper. "I think that it's very unique to Lawrence, and I think it's an amazing attribute. I think that these kids are getting exposed to things that not every kid is exposed to at this age. I've seen a difference from the kids we had at the beginning of the year and now in just their growth and progress, and I think a lot of that is due to the exposure to hands-on (activities) in the arts."
Juneau will be singing at the celebration and says she couldn't be happier to have a job in the arts. All she has to do is look at her boss and former teacher to see where the future might go.
"I believe in the arts," says Reimond, as spry and creative as any of the kids in her classrooms. "I'm an early childhood educator by education, but the arts are just an important part of that. And playing. Playing. This is when we need to do that, and we can't give it up.
"It's fun for me in there, too. I'm not going to get old because I get to do this."
Copyright 2017 The Lawrence Journal-World. All rights reserved. This material may not be published, broadcast, rewritten or redistributed. We strive to uphold our values for every story published.