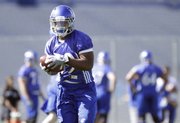 The mysterious James Sims, who quietly had a monster freshman season at running back for Kansas University's 3-9 football team, was the source of bewilderment among reporters.
Sims, one of the team's few players worth marketing, made that difficult to do. After a attending a couple of media sessions, he decided he wasn't comfortable doing interviews and shut it down for the year.
Sims considered that a problem, so he did what driven athletes do when they perceive they have a weakness. He worked on it and solicited the help of trained professionals. Sims said he asked, "some of my (communications) teachers," at KU to help him.
"They just had cameras in my face, asking me questions that the media would ask me, and I would just have to answer them," Sims said.
It wasn't until he saw replays of himself that he came to the same conclusion as reporters who had interviewed him: He's pretty darn good at it, which made his reluctance so puzzling.
"Yes, sir, I was (surprised)," he said with a big smile.
More importantly, he was pretty darn good at running the football.
Sims' productive season somewhat got lost in the overall disappointment of a football season, Turner Gill's first as head coach, that didn't generate much buzz.
Sims didn't play in the loss to Division I-A North Dakota State, so don't blame that one on him. In Week 2, he became the first true freshman to rush for 100 yards (101, to be exact, plus a touchdown) in his debut against Georgia Tech. Two games later, he rushed for 115 yards and two touchdowns vs. New Mexico State. In the comeback against Colorado, his totals were 123 yards and four rushing touchdowns. Kansas went 3-0 when Sims rushed for 100 yards, 0-9 when he didn't.
His 742 yards were eighth among NCAA freshmen in 2010, and his 10 touchdowns (nine rushing) led the Jayhawks. He's listed at 6-foot, 226 pounds and comes from Irving MacArthur High in the Dallas Metroplex, where current KU receivers coach David Beaty was head coach when Sims was an eighth-grader being wooed by Beaty. Sims also knew Gill before coming to Kansas.
"I had a good feel for coach Gill when he was at Buffalo because he recruited me real hard over there," said Sims, who has fielded punts in practice. "He's a real good guy."
That strong relationship didn't prevent Gill from loading up on running backs. Sims will compete for carries with red-shirt freshman Brandon Bourbon and incoming freshmen Darrian Miller, Anthony Pierson and Dreamius Smith.
"Regardless of if you had an amazing year, you're still going to have to compete," Sims said. "Coach Gill made it clear there are no spots reserved for anybody, no matter who you are or what you did."
Bigger and faster backs than Sims are in the competition, but that doesn't mean they're better. Sims has proven he knows how to find the holes. If someone beats him out, look for big things from that someone.
Copyright 2018 The Lawrence Journal-World. All rights reserved. This material may not be published, broadcast, rewritten or redistributed. We strive to uphold our values for every story published.