Washington — The Federal Reserve, meeting for the last time before an election that hinges on the weak economy, edged closer Tuesday to jumping in to help and suggested it's more worried about prices falling than rising.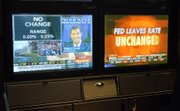 The central bank gathered as new figures showed some improvement in home construction. But those same figures showed the pace of building would have to double to contribute much to job growth, underscoring the dire state of the housing market.
The Fed announced no new steps. It signaled that for now it will stand back and see whether the economy can heal on its own.
But a change in its policy language, which is examined with precision by the financial world, showed it was moving closer to acting. The Fed said it was "prepared to provide additional accommodation," where before it said it would "employ its tools as necessary." It also concluded that economic growth had slowed over the summer.
That's all too clear to the nearly 15 million Americans out of work, some of whom scoffed at news earlier this week that the recession had technically ended in June of last year.
Voters will go to the polls Nov. 2 for midterm elections, and polls have suggested two things: They're worried about the economy more than any other issue. And they're ready to punish Democrats.
President Barack Obama's Democrats are at risk of losing control of the House and perhaps the Senate as well. Both parties agree there's little the president and his party can do to change voters' attitudes before the election.
Copyright 2018 The Associated Press. All rights reserved. This material may not be published, broadcast, rewritten or redistributed. We strive to uphold our values for every story published.