1100 block of New York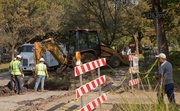 Emergency crews shut down 12th Street between Connecticut and New Jersey streets about 9:40 a.m. Monday due to a gas line break.
Black Hills Energy spokesman Curt Floerchinger said construction crews broke a two-inch gas line at the intersection of 12th and New York streets.

Emergency crews were on standby until workers repaired the line about 10:05 a.m. A natural gas odor could be smelled from a block away while the line was being repaired.
Lawrence Douglas County Fire & Medical Captain Scott Dieker said emergency crews tried to evacuate the three homes closest to the line break as a precaution, but they were vacant.
Gas service was shut off for three residential customers, Floerchinger said, but service should be restored by noon.
The 1100 block of New York street continues to be closed for repairs.
Copyright 2018 The Lawrence Journal-World. All rights reserved. This material may not be published, broadcast, rewritten or redistributed. We strive to uphold our values for every story published.