Overland Park — Lawrence High football coach Dirk Wedd doesn't expect sophomore quarterback Brad Strauss to be a vocal leader in the huddle quite yet.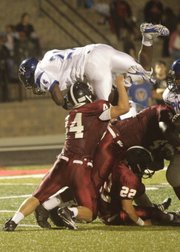 "We've got seniors who can do that part," Wedd said. "He leads by example, and that's good enough right now."
Wedd will look to the seniors, namely wide receiver Chris Gaston, to lead LHS (1-0) against Shawnee Mission East (1-0) at 7 tonight at Shawnee Mission North District Stadium.
Gaston, last year's starting quarterback, earned the respect of the coaching staff.
"Great kid, great team player," Wedd said. "He's just a very special person. We wouldn't have a chance to be good without him."
The Lions will need both Gaston and Strauss to help the offense click tonight. They face a tough SM East defense that shut out Shawnee Mission Northwest, 24-0, last Friday.
At summer team camp at Emporia State University, Lawrence ran into Shawnee Mission Northwest. Wedd came away thinking that Northwest would be "really good" this season.
The fact that the Lancers shut out the Cougars was a strong statement.
"They punched them in the mouth and Northwest didn't have an answer," Wedd said. "We're going to have to be very aggressive, very physical, and like I said, grow up real fast."
Senior Darrin Sorem said he thought the Lions have shown more aggressiveness and intensity in practice so far.
"Our goal this year is to carry that over into games," Sorem said.
Wedd installed a few more plays into the offense this week in practice, but still kept it relatively simple. He said he believes Strauss can grasp whatever comes his way.
Coach Chip Sherman leads the Lancers, and while it's just his second year at East, Sherman has been around high school football for over 20 years. Wedd knows that Sherman won numerous state championships at Platte County (Mo.). Sherman is also in the Missouri Football Coaches Association Hall of Fame.
"Chip's won everywhere he's been," Wedd said. "He's always had tough kids, and he's implemented that at East."
But Wedd isn't suggesting East wasn't tough before. He remembers running into the Lancers and their big offensive linemen twice during the Lions' state championship run in 1995.
"They've always been a real tough, physical football team," Wedd said.
Wedd said he doesn't have an identity for his football team like Sherman does quite yet, but he expects one to develop after a few tough games.
"We have an idea, but again, we don't know who's going to step up," Wedd said. "The chairs are going to get thrown, and we'll find out who's matured and who's improved themselves this summer.
Copyright 2018 The Lawrence Journal-World. All rights reserved. This material may not be published, broadcast, rewritten or redistributed. We strive to uphold our values for every story published.