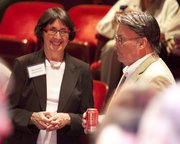 To an actual chorus of "Everything's Coming up Roses," the Lawrence Community Theatre on Wednesday unveiled a $6.2 million campaign to build a new 300-seat theater in west Lawrence.
Thus far, there are roses aplenty.
Leaders of the theater confirmed that they've already received $3.77 million in pledges, and hope to break ground on the site near Sixth Street and Wakarusa Drive by fall of 2011.
"This will be such an enormous step forward for the whole community," said executive director Mary Doveton, who was part of the group 34 years ago who founded the theater. "This new facility will provide a great opportunity for the community to gather together."
The theater announced gifts of $1 million each from the estates of longtime arts patrons Hortense Oldfather and Mabel Woodyard. The project also formally accepted the donation of 3 acres of property along West Sixth Street between Wakarusa Drive and Folks Road. The site — which is part of the Bauer Farm development and is in front of Free State High — is valued at $725,000. A local development group that includes Lawrence businessmen Mike Treanor, Doug Compton and Bill Fleming donated the property.
Among the features planned for the new facility:
• A 300-seat theater with a thrust stage, meaning seating will be on three sides of the performance. The current theater seats about 160.
• A parking lot for about 135 vehicles. The current theater is located in a residential area and largely relies upon on-street parking.
• An education wing that will include classrooms for the theater's growing youth program.
"I think it can be a spectacular destination type of building for the community," said Dale Glenn, a Lawrence architect with Treanor Architects who is leading the design of the building.
The theater also announced that it is changing its name to Theatre Lawrence to give the community a better idea of the breadth of programs it offers.
Theater leaders said they'll now turn their attention to a general fundraising campaign to raise the remaining money needed. Retired Supreme Court Justice Fred Six and Lilian Six have been named honorary campaign co-chairs. The campaign has received contributions from the Capitol Federal Foundation, the Ethel and Raymond Rice Foundation, the Kriz Charitable Fund, the Hallmark Foundation, and the Muriel McBrien Kauffman Foundation.
Depending on the pace of fundraising, the theater could be open as early as January 2013.
Copyright 2018 The Lawrence Journal-World. All rights reserved. This material may not be published, broadcast, rewritten or redistributed. We strive to uphold our values for every story published.