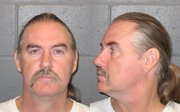 Douglas County prosecutors have charged a Baldwin City man in connection with a July 15 altercation with a group of bicyclists south of Lawrence.
Scott A. Young, 48, who was arrested Monday, faces charges of aggravated battery and criminal damage to property.
Prosecutors allege Young drove his pickup truck into the lead cyclist of a group of riders in the 1000 block of East 1400 Road. That cyclist was thrown from his bike. Bicyclists said the truck driver didn't stop.
According to Douglas County District Attorney Charles Branson's office, sheriff's officers canvassed the area for drivers fitting the description of the vehicle. Undersheriff Steve Hornberger said assistance from the cyclists was key in the investigation.
Young has posted $10,000 bond. His next court appearance is set for 3 p.m. Sept. 14.
Copyright 2014 The Lawrence Journal-World. All rights reserved. This material may not be published, broadcast, rewritten or redistributed. We strive to uphold our values for every story published.