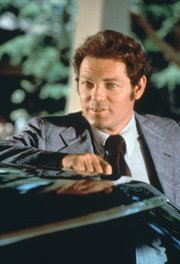 Los Angeles — Stage and screen actor James MacArthur, who played "Danno" in the original version of television's "Hawaii Five-O," died Thursday at age 72.
MacArthur's agent, Richard Lewis, said the actor died in Florida of "natural causes," but no direct cause was specified.
In a career that spanned more than four decades, MacArthur was most recognized for his role as detective Danny "Danno" Williams on "Hawaii Five-O," which aired from 1968 to 1980. Episodes often ended with detective Steve McGarrett, the lead character, uttering what became a pop culture catch phrase: "Book 'em, Danno."
Jack Lord, who starred as McGarrett, died in 1998.
MacArthur quit the role of McGarrett's sidekick a year before the program's final season.
"Quite frankly, I grew bored," he explained on his website. "The stories became more bland and predictable and presented less and less challenge to me as an actor."
"Hawaii Five-O," one of the longest running crime shows in TV history with 278 episodes, was shot on location in the Hawaiian islands. It was the first Hawaii-based national TV series.
The drama has been remade by CBS with a new cast this season.
MacArthur, born Dec. 8, 1937, seemed destined to become an actor. He was the adopted son of playwright Charles MacArthur and Helen Hayes, an award-winning actress often referred to as "First Lady of the American Theater." Silent film star Lillian Gish was his godmother.
"They did teach me a lot about the theatre just through my life with them," he said of his parents in a 1957 interview in Teen Life magazine. "They never pushed me in any direction. Any major decision has always been my own to make."
James MacArthur made his stage debut at age 8 in a summer stock production of "The Corn is Green."
As a young actor, James MacArthur appeared in the Walt Disney movies "Kidnapped," "Third Man on the Mountain," "Swiss Family Robinson" and "The Light in the Forest."
Copyright 2018 The Associated Press. All rights reserved. This material may not be published, broadcast, rewritten or redistributed. We strive to uphold our values for every story published.