Washington — The enormous cache of secret war logs disclosed by the WikiLeaks website paints a picture of an Iraq burdened by persistent sectarian tension and meddling neighbors, suggesting that the country could drift into chaos once U.S. forces leave.
The reports, covering early 2004 to Jan. 1, 2010, help explain why Iraq's struggle to create a unified, independent state continues, despite a dramatic reduction in violence. They appear to support arguments by some experts that the U.S. should keep thousands of troops there beyond their scheduled departure in 2011, to buy more time for Iraq to become stable.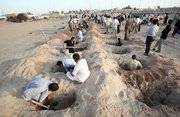 The threats described in the leaked documents come from outside, including next-door Iran, as well as inside, in the form of sectarian, political and even family rivalries that predate the 2003 American-led invasion and endure today.
The reports demonstrate the weakness of Iraq's civic institutions, court system and military, even before sectarian violence exploded in 2006-2007.
In the fall of 2005, the U.S. military discovered evidence of plots to assassinate various officials, including an Iraqi Army colonel. In September, one of the war logs said, a group of judges was abducted in Balad, beaten and forced into the trunk of a car.
Another example: On June 6, 2006, U.S. forces reported discovering large amounts of blood on the floor, a rubber hose and electric wires rigged to a metal door in a holding cell in an Iraqi police station in Husaybah, in western Iraq.
The report called the discoveries "evidence of unchecked torture" and "clear indications" of human rights violations.
The U.S. report said that for a time, U.S. military advisers slept in the police station to make sure prisoners were not abused, checked arrest logs and counseled Iraqi police, warning them against these practices.
But even a program of training and counseling didn't put an end to the abuses. According to a report dated Feb. 16, 2009, U.S. forces reported the mistreatment of 33 detainees in custody at the same police station.
The Associated Press was given access to a redacted WikiLeaks database hours before its general release Friday, but was not provided the raw data. The documents appear to be authentic, but their origin could not be confirmed independently.
The leaked war logs reflect significant progress as well. There has been a dramatic improvement in security since the height of the violence in 2006-07, due to a weakened threat from al-Qaida and an Iraqi population weary of the sectarian bloodletting that once threatened to plunge the country into civil war.
Even so, some experts question whether the fledgling military and police forces are capable of defending Iraq after Washington completes its scheduled pullout Dec. 31, 2011.
Those who hold these pessimistic views also worry Iraq could repeat its history of turning to a military dictator in the mold of Saddam Hussein.
Prime Minister Nouri al-Maliki's opponents said the WikiLeaks documents showed he must be stopped from consolidating power. Al-Maliki's office responded by saying the document leak was timed to sabotage his re-election hopes.
Higher death toll
The documents include reports from soldiers on the ground about day-to-day violence and individual attacks — including shootings, roadside bombings, and the execution-style killings and targeted assassinations that left bodies in the streets of Baghdad at the height of sectarian violence that pushed the country to the brink of civil war.
The information is full of military jargon and acronyms but often includes names of victims, times of day of the attacks and the neighborhoods where they occurred.
That contradicted years of statements by American officials, who have repeatedly resisted providing information about civilian casualties. The U.S. military often told journalists in Baghdad it did not keep detailed records of civilian deaths or have information on particular attacks. In 2006 and 2007, the Bush administration and military commanders repeatedly denied Iraq was sliding into civil war and often played down the extent of civilian carnage, much of which had no direct effect on U.S. forces.
The reports also point to a higher death toll than previously believed.
Iraq Body Count, a private British-based group that has tracked the number of Iraqi civilians killed since the war started in March 2003, said it had analyzed the information and found 15,000 previously unreported deaths. That would raise its total from as many as 107,369 civilians to more than 122,000 civilians.
Rights groups criticized Washington for not releasing the information, insisting that casualty information did not pose a national security risk.
"The American public has a right to know the full human cost of the wars in Afghanistan and Iraq," Jameel Jaffer of the American Civil Liberties Union said in an e-mail. "A lot of this information should have been released to the public a long time ago."
Copyright 2018 The Associated Press. All rights reserved. This material may not be published, broadcast, rewritten or redistributed. We strive to uphold our values for every story published.