Ranthambhore National Park, India — Comedian Russell Brand and pop star Katy Perry were married Saturday in northwestern India, the couple confirmed in a statement.
A Christian minister and longtime friend of Perry's family performed a "private and spiritual ceremony," which was attended by family members and close friends, said the statement released by the couple's representatives.
"The backdrop was the inspirational and majestic countryside of Northern India," said the statement, which did not provide any further details on the ceremony.
The wedding was at the Aman-e-Khas luxury resort in a tiger reserve in Ranthambhore National Park, a hotel official said on condition of anonymity as he was not authorized to speak to the media.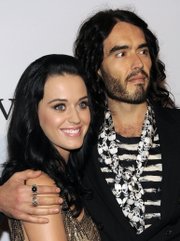 Security has been stringent with private security guards stationed at the resort and other nearby hotels where guests and the couple are staying for the six-day wedding celebration.
Photographers and media reporters were not allowed into the Aman-e-Khas wildlife retreat. The couple have given the exclusive coverage rights to a London magazine, and no other photographers or journalists will be allowed into the resort.
The wedding venue was lit with lamps, colorful lights illuminated the trees and flower garlands festooned the luxury tents at the resort, the hotel official said.
Both Brand and Perry wore traditional Indian clothes to the wedding, the hotel official said. Perry donned a sari, as did a number of other female guests at the ceremony. On Friday, at a prenuptial celebration, Perry, like a typical Indian bride, had henna designs applied on her palms and hands.
The British comedian's wedding procession, accompanied by traditional Indian musicians, made its way from Sher Bagh, another nearby luxury resort, to the Aman-e-Khas retreat.
Brand proposed to the American pop singer, whose parents are Christian pastors, in the historic Indian city of Jaipur over New Year's Eve, and the couple decided to get married in India.
A day earlier, four news photographers said that they were punched by two men accompanying Brand when they were taking pictures of Brand at an Indian tiger reserve Friday.
According to Associated Press photographer Mustaf Quraishi, who was one of the four photographers injured, Brand himself looked on during the assault as the photographers tried to defend themselves before being left stranded in the wild animal park.
The photographers said they had been following about 330 feet behind two jeeps — one carrying Brand, an unidentified woman, a man and two children, and the second carrying two men, one of whom was later described by police as Brand's friend and wedding guest. The other apparently was a bodyguard.
Copyright 2018 The Associated Press. All rights reserved. This material may not be published, broadcast, rewritten or redistributed. We strive to uphold our values for every story published.