Douglas County law enforcement agencies say a man accused of robbing a Kansas University student on campus in 2009 may be back in Lawrence.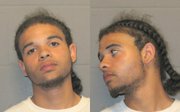 Officers and members of Douglas County Crime Stoppers are asking for help in finding 20-year-old Mykel Dontae Karlyle of Topeka, who is wanted on an aggravated robbery warrant.
"We have reason to believe that Mr. Karlyle is currently avoiding law enforcement and is in the Lawrence community to do so," said Detective Sgt. Troy Squire of the Lawrence Police Department.
Douglas County District Attorney Charles Branson confirmed Karlyle is wanted in connection with an April 26, 2009, robbery the KU Public Safety Office investigated.
According to news reports, a male KU student had reported a man approached him in the parking lot outside McCollum Hall and demanded money from him at gunpoint. The suspect took cash from the victim, but no injuries were reported.
Squire said that because Karlyle is a Topeka resident, he was recently featured on Shawnee County Sheriff's office most-wanted list for the KU robbery. Officers suspect he has moved back into the Lawrence area to avoid the attention.
"There is an allegation that a weapon was involved in this aggravated robbery," Squire said. "We would like to get this inherently dangerous person off the streets."
Police ask anyone with information about Karlyle to call 832-7650 or Crime Stoppers at 843-TIPS. Tips can be e-mailed at www.crimestoppersdgco.com.
Crime Stoppers also offers cash rewards in exchange for accurate tips that lead to an arrest.
Copyright 2017 The Lawrence Journal-World. All rights reserved. This material may not be published, broadcast, rewritten or redistributed. We strive to uphold our values for every story published.