About 1:20 a.m. on Oct. 7, 2005, emergency dispatchers began receiving 911 calls about a fire at a northwest Lawrence apartment complex. In minutes, a fire at the Boardwalk Apartments ripped through 76 apartments. Three people died in what was one of the worst fires in Lawrence history. Five years later, we take a look back.
Photo Gallery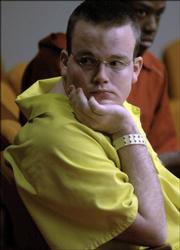 Jason Allen Rose
Photo Gallery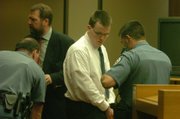 Jason Rose conviction
Photo Gallery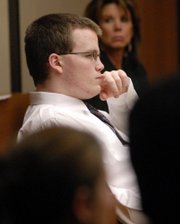 Boardwalk Fire Trial Day 1
Photo Gallery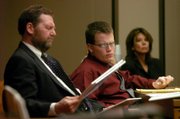 Boardwalk Fire Trial Day 2
Photo Gallery
Boardwalk Fire Trial Day 3
In annual crime statistics compiled by the Kansas Bureau of Investigation, he's categorized as a triple murderer. To those who knew him, he's a kind — but intellectually challenged — young man railroaded by the criminal justice system. In the Lawrence community, he's the arsonist responsible for one of the worst local tragedies in recent memory. And for one of the victims of the Boardwalk Apartment fire, Jason Allen Rose is a hero.
Five years after the fatal fire, Rose — convicted by a Douglas County jury in 2007 of arson, manslaughter and battery — is about halfway through his 10-year prison sentence. When discussing Rose, victims express forgiveness, friends question his guilt, and prosecutors talk about justice.
On his own
At the time of the 2005 Boardwalk Apartment fire, Jason Rose, then 20, was adjusting to life on his own. Since he was 4, he'd lived at various foster-care homes but had recently moved out of the Villages, a group foster-care home in Lawrence. At his trial, testimony by a social worker revealed that Rose had been taken from his birth parents because of physical and sexual abuse.
Despite the rough childhood, Rose was doing pretty well living on his own for the first time. He worked two fast-food jobs and had his own car.
Lawrence resident Russ Beeson knew Rose for about five years through volunteering at Rose's group home, as well as through attending Victory Bible Church in Lawrence with him.
Beeson described Rose as a hard-working, sweet guy.
"He was really a nice kid. Really cared about people," Beeson said.
Rose's large frame — over 6 feet and well over 200 pounds — didn't hide his developmental delays, which were obvious shortly after meeting him. Beeson said the baby-faced Rose had the intellect of a 13-year-old.
"He was very easily influenced and very gullible," he said.
Sandy Meyer and her husband had lived at Boardwalk Apartments for only three weeks, but had quickly grown close to their neighbor. Rose had helped the couple move in, and since Meyer had health problems, Rose would help around their apartment and walk their dogs.
"He was just a kind-hearted soul," she said.
Meyer said Rose struggled cooking, so she would invite him over for dinner.
"He wanted love, and you could tell that he was desperate for someone to care about him," Meyer said.
Inconsistent story
As police started investigating the fire, they began by interviewing witnesses, including Rose, who was one of the first people to call 911. During questioning, Rose first denied setting the fire. However, police picked up on inconsistencies in his story.
"His story started changing and things started falling apart," said Douglas County District Attorney Charles Branson.
And Rose's story would change several times. In two days of questioning — without a lawyer — Rose admitted to setting fire to some paper. Then he denied it. Later, he gave the story prosecutors used to convict him: that he was upset about receiving some photos and letters from his birth parents. He set them on fire, and the flames quickly spiraled out of control.
Further bolstering the case against Rose was a juvenile misdemeanor conviction from 2003, when Rose stole some lighters from a local hardware store. Rose would also admit to setting fires in the past, but mostly campfires. An incident at a group home where Rose lit a trash can on fire would add to the claim that Rose exhibited "fire-setting" behaviors.
However, Robert Kidder, who ran the Villages and lived with Rose for years, testified that Rose had never exhibited any fire-setting behaviors in his presence. Other friends came to Rose's defense, again describing him as a kind, immature man.
The case headed to trial in 2007, with Rose facing three counts of felony murder, as well as arson and battery charges. However, the judge declared the first trial a mistrial, as a new witness popped up after posting on the Journal-World's website.
The second trial began two months later and the jury came back with guilty verdicts on three counts of involuntary manslaughter, one count of arson, and eight counts of battery — much less severe charges than prosecutors had requested.
Rose was sentenced to 10 years in prison.
'He got railroaded'
Jason Rose couldn't have set the fire, said his former neighbor Meyer. While she knew him for only three weeks, "he just didn't have it in him."
And Rose saved her life.
As Meyer, then age 63 and in poor health, struggled to the stairway through the smoke during the fire, it was Rose who ran up and made sure she got to safety.
"If he hadn't come when he did — with the smoke and everything — I probably would've fallen and killed myself," Meyer said. "He got me out."
Rose's friend Beeson, who was vocal about Rose's innocence at the trials, said police and prosecutors preyed on someone who lacked the mental capacity to handle hours of interrogations.
"He got railroaded," Beeson said. And with three dead victims, someone needed to pay, he said.
"They wanted to get a conviction and they got the easiest one they could get," he said. "The fourth victim in this was Jason."
David Melton, one of two assistant prosecutors who tried the case, said that no matter how anyone felt about Rose, he committed the crimes.
"There was no question that Jason Rose was sympathetic," Melton said. "But that didn't excuse what he did. ... It was important that he be held accountable."
Justice?
Rose, who declined an interview request, is about halfway through his sentence. His earliest possible release date is June 2014.
Rose's court-appointed attorney, Ron Evans, said he felt fortunate that Rose would still get out of prison a relatively young man.
"It could have been a lot worse," he said.
But Evans said he suspects the jurors struggled in their decision, as no one ever asserted that Rose — even if he set the fire — meant to hurt anyone.
"That's basically an accident," Evans said.
Leigh McHatton, a former Boardwalk Apartment resident who suffered burns to her hands, feet and face during the fire, said she has let go of questions about punishment or blame for the deadly fire.
When asked about Rose, she said, "I'm not damning him because he made a bad decision five years ago."
Where he is, and when he gets out of prison, is something she never thinks about.
"The only time I think of him is when I include him in my prayers," she said.
However, as district attorney, Branson has the job of weighing the heavy topics of justice, fairness and punishment.
He defends his decision to charge Rose with murder, and though the jury chose a lighter verdict, he said he's pleased Rose was punished for his actions.
The normally eloquent and talkative Branson stumbles a little, though, when asked a more philosophical question about the case.
"Is it justice? Probably," he said after a long pause. "Is it fair? There's just no measure of that."
Copyright 2018 The Lawrence Journal-World. All rights reserved. This material may not be published, broadcast, rewritten or redistributed. We strive to uphold our values for every story published.