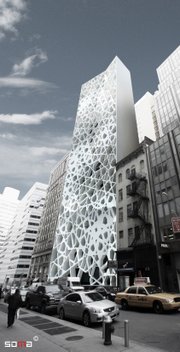 New York — Conceptual sketches of the Islamic center planned two blocks from ground zero envision a futuristic-looking building wrapped in a honeycomb of abstract shapes, with a core containing far more space for secular pursuits than religious worship.
The renderings, some of which were posted on the project's website this week, are preliminary, but they project the development team's desire to build something cosmopolitan and fun on a site now known only for controversy.
"I don't think that once this thing gets built, anyone will be picketing," said Sharif El-Gamal, the project's developer.
Groundbreaking for construction is probably two to three years away, "or hopefully sooner," El-Gamal told The Associated Press.
The largest part of the building — four of 16 floors — would be taken up by a sports, fitness and swimming center. Another full floor would be occupied by a child care center and playground.
Much of the rest of the building would be occupied by a restaurant, culinary school, artist studios, exhibition space and an auditorium for cultural events.
El-Gamal said the idea was to build a facility that will attract neighborhood residents looking for a place to work out, as well as suburban Muslim couples spending "date night" in the city.
The building's prayer space for Muslims — the part of the center that has caused some critics to derisively brand the center the "ground zero mega mosque" — would be located on two levels in the basement. The 12th floor would hold a 9/11 memorial and sanctuary open to people of all faiths.
As for the look of the place, it could fit in fine as an annex to Superman's Fortress of Solitude, with white walls and floors and a crystalline feel.
Renderings by Soma Architects, a design studio that shares office space with El-Gamal's real estate company, show a building exterior that takes a traditional element of Islamic architecture — an arabesque pattern — and weaves it into a geometric mash-up that extends into the interior.
"We want to have a marriage between Islamic architecture and New York City. We want to do something that is green and cool," El-Gamal said.
Actual working plans for the center are still some time away.
An architect has yet to be selected, El-Gamal said. Planning is just beginning to emerge from a brainstorming phase disrupted when criticism of the center exploded over the summer.
Fundraising will probably begin in earnest in about 30 days, once the work of establishing a nonprofit group to oversee the center is complete.
Like the project's co-leader, Imam Feisal Abdul Rauf, the Brooklyn-born El-Gamal said he was caught off-guard by criticism from people offended by the concept of building an Islamic institution so close to the World Trade Center site.
Some have called it an exercise in triumphalism, intended to plant Islam's flag at the scene of the attacks and deliberately provoke Americans. Others say they are against the center because they don't want to see any growth of Islam in the U.S.
"I would have done things a lot differently during this process if I understood what we were up against," El-Gamal said.
But he added that he remained convinced much of the criticism was sparked by "a campaign of deception and deceit."
"People have been calling this the ground zero mosque. It's not at ground zero and it's not a mosque," he said. "Our identity has been stolen from us. It has been stolen by extremists."
Copyright 2018 The Associated Press. All rights reserved. This material may not be published, broadcast, rewritten or redistributed. We strive to uphold our values for every story published.