Douglas County's judge pro tem Jim George Tuesday ordered a Lawrence man accused of drunken driving and endangering his son not to have contact with the boy or the man's stepson.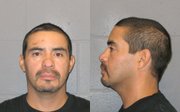 But the defense attorney for Juan Velasco said that his client has been taking care of the boys since the incident in September and that he believed prosecutors only asked for the bond condition because the case was receiving media attention.
"I feel it's politically motivated," defense attorney John Frydman said. "It's not because the children are in any way in danger."
Velasco, 40, made a first appearance in court Tuesday afternoon on two counts of child endangerment, driving under the influence and failing to secure a load on a truck.
The charges were filed after the man's 12-year-old son fell from the back of Velasco's pickup truck at 9:30 a.m. Sept. 25 while he was trying to secure a basketball goal in the truck.
The accident occurred while Velasco was driving in the 1900 block of East 30th Street, which is south of Prairie Park Nature Center. The truck hit a bump in the street, and the boy and a portable basketball goal fell from the back of the pickup.
The boy was eventually taken to Children's Mercy Hospital in Kansas City, Mo., where he stayed for more than a week. Velasco's 16-year-old stepson, who also was in the back of the truck, was not injured.
According to a Lawrence police report, a breath test estimated Velasco's blood-alcohol content was more than 2.5 times the legal limit after the accident. The legal limit to drive in Kansas is 0.08.
Douglas County District Attorney Charles Branson's office reviewed reports and filed charges about three weeks later. Prosecutors allege if he's found guilty, it would be Velasco's third DUI conviction.
George agreed with Nicole Romine, an assistant Douglas County district attorney, to set Velasco's bond at $2,000 with the no-contact order. Frydman objected, saying his client has been the sole provider especially for his son who was injured.
The boy's mother recently returned to the Lawrence area after living out of state, Frydman said.
George said the defense could discuss the bond condition with District Judge Paula Martin at Velasco's next court date, Dec. 30.
Copyright 2018 The Lawrence Journal-World. All rights reserved. This material may not be published, broadcast, rewritten or redistributed. We strive to uphold our values for every story published.