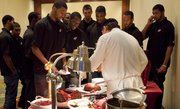 Las Vegas — Kansas University's basketball players, coaches, family members and support-staff members filed into a Renaissance Hotel dining hall at 2:30 p.m. Thursday, gathering to eat an old-fashioned traditional Thanksgiving Day meal.
The main-course menu consisted of turkey, roast beef, ham, salad, stuffing, mashed potatoes, collard greens, corn, macaroni and cheese, green bean casserole and candied yams with toasted marshmallows. For dessert, the offerings included apple, pecan and pumpkin pie, as well as Haagen-Dazs vanilla ice cream.
The yummy dinner, which followed a late morning-early afternoon practice, proved a nice team-bonding experience for the Jayhawks, who will meet Ohio University at 7 tonight at Orleans Arena.
"I would say next to being at home with everybody gathered around our kitchen table, this is the best place we could possibly be," KU coach Bill Self said before giving way to senior guard Tyrel Reed, who provided the Thanksgiving invocation.
The players, who are staying at the non-gaming Renaissance Hotel a few blocks east of the Strip, insist the feast won't make them fat and happy for today's game between the Jayhawks (4-0) and Bobcats (3-1).
"This is a business trip," declared KU senior forward Mario Little. "Even though it's Thanksgiving, even though it's Vegas, it's still a business trip."
The Jayhawks hope this trip has one thing in common with KU's last journey to Vegas for the 2006 Invitational: two victories.
Yet last time, KU struggled in the first game of the two-day event, sleepwalking to a 64-46 closer-than-the-final-score-indicated victory over Ball State. The following night, following a Julian Wright-led team meeting in a hotel hallway, the No. 12-rated Jayhawks beat No. 1 Florida, 82-80, in overtime.
Some might say there's the possibility of again overlooking the Friday foe, with Arizona looming at 9:30 Saturday night.
"No. It's not going to be hard (to gear up for Ohio)," said junior guard Tyshawn Taylor, "because we know what we've got at stake. We don't want to lose. We want to be the best team (in Invitational). Plus they have a good team."
"This is a completely different team," Reed said. Indeed, Brady Morningstar was the only current Jayhawk on the roster in 2006-07. "I feel we've got some veteran guys here. We'll have the guys ready to go against a good Ohio team."
Ohio, which has beaten Delaware (88-69), Texas A&M-Corpus; Christi (83-70) and Valparaiso (78-75) and lost to Oakland (78-66, all in Athens, Ohio) is preseason pick to win the Mid-American Conference.
"I look at it as every competition is the same," sophomore forward Thomas Robinson said. "I'll wake up Saturday the same way I wake up Friday.
"We want to continue the defense we've been playing and get better as a team in Vegas," Robinson added. "Once we leave Vegas, we want to know something about our team we didn't know before we left and to come back as a better team."
Taylor believes Ohio presents KU's toughest challenge to date this season.
"I honestly don't feel we've been tested yet," he said of a KU team that has rolled to victories over Longwood, Valparaiso, North Texas and Texas A&M-Corpus; Christi with a 37.6-point average margin of victory.
"We've had a bunch of games played against some good teams, but I think playing at home, we're kind of spoiled a bit. Our fans are always there. It'll be fun playing them on a neutral court and see who has the best team."
The Bobcats return three starters off a 2009-10 team that went 22-15 and advanced to the NCAA Tournament for the first time since 2005 and third time in the last 20 years. Ohio knocked off Georgetown, 97-83, before falling to Tennessee in the second round, 83-68.
Leading scorer is sophomore guard D.J. Cooper, who averages 15.5 points, 9.3 assists and 3.3 steals per game. Senior forward DeVaughn Washington averages 13.0 points and 5.3 rebounds per game. Senior guard/forward Tommy Freeman, soph forward Reggie Keely and former K.C. Park Hill South forward Ivo Baltic average 11.8, 10.8 and 9.8 ppg respectively.
"They're good," KU coach Bill Self. "I watched the Corpus Christi game, and they played a lot of zone. Just going into it, we're going to have to make shots. They do some similar things that we do offensively. Hopefully it won't be all new to our guys."
Cut forehead: Kansas University senior guard Tyrel Reed, who ran into freshman Niko Roberts at practice on Thursday, suffered a cut on his right forehead that needed five stitches to close. Reed left practice for a bit, but was able to finish the workout.
No gambling: Kansas University's players, even the ones 21 and older, are not allowed to gamble on this trip.
That's OK with senior Mario Little.
"I don't really gamble. I don't know the rules," Little said. "If I ever go to Vegas again to have fun, maybe I'll have somebody with me who knows what to do."
Little was reminded that his childhood idol, Michael Jordan, according to published reports has both won — and lost — astronomical sums of money on trips to Vegas.
"He's got a lot of millions to lose," Little said. "I feel like he can lose whatever he wants. He'll always get it back. It's not that much to him. But, yeah, I heard about that."
Tyshawn Taylor says every year the Jayhawks hear from experts who talk about the dangers of gambling and warn the Jayhawks of point-shaving scandals of the past in college athletics..
"I guess people do it a lot more than I imagine," Taylor said of gambling. "If we're having a conversation with a person, they might use it for gambling. They do a good job warning us and showing signs of what can happen if we decide to do something like that."
Noted Marcus Morris: "You get in trouble for gambling. See what happened to Michael Jordan. That's not a good thing. I don't want that to ever happen to me."
Vegas vacation: Some KU fans make a holiday vacation out of the trip to Vegas for the Invitational.
"I think there's 20 to 30 people from my hometown. There's a lot of Burlington natives who will be there," Reed said of today's 7 p.m. game against Ohio at Orleans Arena.
KU senior associate AD Larry Keating said 3,000 tickets were sold just through the Williams Fund.
First trip: This is Tyshawn Taylor's first trip to Vegas.
"I've never been to an AAU Tournament there. I think me and Mario are the only two who haven't been there," Taylor said.
Ohio tidbits: Ohio is coached by John Groce, who is 40-32 in three seasons. ... Ohio is 0-2 all-time against KU. The No. 13 Jayhawks defeated the Bobcats, 49-38, on March 14, 1985, in South Bend, Ind., in the first round of the NCAA Tournament. No. 3 KU defeated Ohio, 88-51, in the M&I; Bank Kansas City Shootout on Dec. 15, 2007, at Kansas City's Sprint Center. ... Ohio, which beat Georgetown and lost to Tennessee in last year's NCAA Tournament, has lost seven of its last eight versus ranked opponents. ... The historic win over the Hoyas was also the first win against a ranked team in 12 years. ... Ohio is 10-45 all-time vs Top 25 opponents. ... Ohio is 2-21 against top-10 teams. ... Ohio is 1-11 versus the Big 12. The victory was against Missouri, 78-65, on Jan. 7, 1975, in Athens, Ohio.
Copyright 2018 The Lawrence Journal-World. All rights reserved. This material may not be published, broadcast, rewritten or redistributed. We strive to uphold our values for every story published.