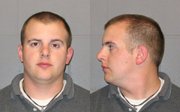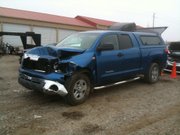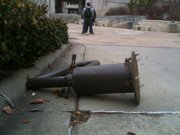 E. 1450 Road north of N. 1900 Road
Douglas County prosecutors on Wednesday filed several charges, including involuntary manslaughter while driving under the influence of alcohol or drugs, against a 23-year-old man in connection with a fatality accident Tuesday north of Lawrence.
Zachary Tyler Harrison, 23, who is stationed at the Little Rock Air Force Base in Arkansas, said little in court Wednesday afternoon, other than "yes sir" or "no sir" as a judge set his bond at $175,000 for the nine charges he faces.
He was arrested Tuesday as a suspect in the 3:40 a.m. crash on U.S. Highway 24-59.
Douglas County Sheriff's officers and prosecutors accused Harrison of stealing a pickup truck being used by a newspaper carrier earlier Tuesday on the Kansas University campus. Authorities allege Harrison eventually struck a car from behind around 3:40 a.m. and killed a 21-year-old Lincoln, Neb., man, and injured three others.
Sheriff's officers on Wednesday identified Cameron Freeman as the man who died in the accident. Family members said the four Nebraska men were headed back to Lincoln after attending a concert in Lawrence.
Family reaction
The sheriff's office identified the three other 21-year-old Lincoln, Neb., men in the car with Freeman as Casey Kettler, Michael Larsen and Fernando Pages.
Kettler, the driver, and Larsen, the front-seat passenger, were taken to Lawrence Memorial Hospital, where they were treated and later released. Pages, a back-seat passenger, was taken to Kansas University Hospital in Kansas City, Kan., where his condition was unknown Wednesday. Freeman, another back-seat passenger, died at KU Hospital, said Sgt. Steve Lewis, a sheriff's spokesman.
Sheriff's officers said the Nebraska men were traveling north at 3:40 a.m. Tuesday on U.S. Highway 24-59 when their Mazda 626 was rear-ended by a Toyota Tundra that prosecutors say was the truck that Harrison stole. The truck did not stop after the accident.
Tim Kettler, Casey Kettler's father, said the four Nebraska men had been friends since high school and were in Lawrence for a concert. He said they were headed back to Lincoln so they could make it to work on Tuesday.
"Casey said they were traveling less than the speed limit. He looked in his mirror and saw the lights, and then they were hit," he said. "It was an out-of-the-blue kind of thing."
Kettler said his son and Larsen made it back to Lincoln after they were released from the hospital. He said it appeared Pages would recover from his injuries.
Freeman was a 2007 graduate of Lincoln East High School. Dennis Mann, the associate principal, described him as a fun kid and talented musician who was well-liked by his teachers. He said he kept a close circle of friends.
"We'll miss him," Mann said. "The world was a better place when he was in it."
Charges
The charges Douglas County District Attorney Charles Branson's office filed Wednesday against Harrison revealed a few more details about the incident.
Sheriff's officers have said the pickup truck was stolen from the KU campus from a newspaper carrier delivering several papers as part of the Newspaper Readership Program. Sheriff's and Kansas University officers on Tuesday said Harrison was not being pursued by police just before the crash on the highway.
"The state does believe the defendant poses an extreme risk of safety to the public," said David Melton, a chief assistant district attorney.
Melton also said he considered Harrison to be a flight risk because his only connection to the Lawrence area is a brother he was here visiting.
Harrison, an airman first class in the U.S. Air Force, has been stationed since 2009 at the Little Rock Air Force Base.
Harrison faces charges of:
• Involuntary manslaughter while driving under the influence of alcohol or drugs for Freeman's death.
• Three counts of aggravated battery for the injuries to the other three men.
• Leaving the scene of a fatality accident.
• Failing to report a fatality accident to police.
• Following a vehicle too closely.
• Criminal deprivation of property, or "joyriding" in a vehicle he took without permission.
• Failing to report damage to property for striking a gate or object on the KU campus.
Judge pro-tem James George agreed to set Harrison's bond at $175,000.
Melton said prosecutors don't believe Harrison has any past criminal history. If that's true, he faces a maximum of three years and seven months in prison on the involuntary manslaughter count if convicted of the most severe charge.
George appointed Jason Billam as Harrison's attorney and scheduled his next hearing for 2 p.m. Monday.
Copyright 2018 The Lawrence Journal-World. All rights reserved. This material may not be published, broadcast, rewritten or redistributed. We strive to uphold our values for every story published.