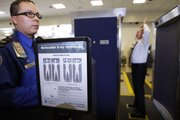 Tampa, Fla. — They've been called molesters, threatened with physical violence and ordered not to touch "my junk."
One woman headbutted a TSA officer who was searching her laptop. Other screeners report being punched, kicked and shoved during patdowns. However, security officers performing increasingly invasive searches say they want Thanksgiving travelers to know they're just doing their jobs, and trying to save lives.
"Even though the agents face some considerable stress from passengers, they are determined to keep the traveling public safe," said Sari Koshetz, a TSA spokeswoman in Tampa on Tuesday.
To be sure, most passengers are docile when going through an airport's security checkpoint.
But Ricky D. McCoy, a lead transportation officer and president of Local 777 Illinois and Wisconsin, a union for the TSA workers, said the atmosphere has changed in the past two weeks.
Last week, for instance, McCoy explained the search to a passenger. "The guy looked me straight in the face and said, 'I don't know what I might do to you if you touch me,'" McCoy said.
McCoy assured the man he would not be abused — and then stared the man down and told him touching him would be the worst mistake he's ever made because authorities would be called. The search went smoothly.
"About 10 minutes later his wife came back and apologized for what he said," McCoy said.
The new pat-downs began about a month ago, and there was one assault on an officer early on. Since the story made headlines, McCoy said, there have been at least six incidents where officers were punched, pushed or shoved after officers explained what would be happening. In one case, he said a passenger headbutted an officer as he looked at her laptop.
He blamed TSA for the uproar, saying the agency didn't reach out to passengers enough.
"We have major problems because basically TSA never educated the public on what was going on," McCoy said. "Our agency pretty much just threw the new search techniques out there."
And then there's the downright uncomfortable: Valorie Lacey, a TSA officer and president of Local 333 in Philadelphia, recalled doing a pat-down on a woman's lower body.
"While I was bending over, I saw two men gawking at us," she said. She wasn't sure if the woman noticed.
TSA officers have received eight to 12 hours of training on the pat-down procedure, Koshetz said. Training on the scanning machines is a three-day process that requires on-the-job training. She said the agents must pass tests each year and requalify for their jobs.
Despite the occasional outburst, many passengers are forgiving.
"I personally wouldn't want to be patted down," said 29-year-old Relana McGlothan, an Army reservist from Orlando who had a layover Tuesday in Atlanta on her way to Raleigh, N.C. "But I think the security people are just doing their jobs. They have a service job, so they have to do what they're told to do."
Valyria Lewis, a transportation security officer and president of AFGE local 555, which covers Georgia, Tennessee, Alabama and South Carolina, hasn't heard of officers encountering problems with passengers in her region. Most of the passengers are cooperative, she said.
"We braced for that, but that's not what we've seen," Lewis said. "There's no resistance there. We're seeing a totally different thing than what we're seeing in the media."
The collective unease of many Americans over possible invasions of privacy, intimate touching and general discomfort have led to a near-instant backlash. News stories and videos of disabled passengers and children being screened aggressively haven't helped, either.
The nation has also paused to laugh. After all, this is the news story that spawned the phrase: "Don't touch my junk."
Those words were made famous a scant week ago by a Southern California man who uttered them to a TSA officer while capturing the verbal showdown on his iPhone. A Google search of the phrase on Tuesday registered 4.2 million hits.
Copyright 2018 The Associated Press. All rights reserved. This material may not be published, broadcast, rewritten or redistributed. We strive to uphold our values for every story published.