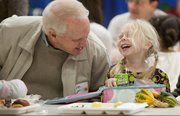 -->
It was a little like a warm-up for next week's Thanksgiving dinner.
Pinckney School students took time out from their regular class schedules to share some turkey and mashed potatoes and gravy with their grandparents on Thursday.
In all, more than 500 pupils and family members enjoyed the school's annual Grandparents Day (with other special friends invited, too).
Myles Coleman, a 5-year-old kindergarten student, created a heart to welcome the arrival of his grandparents, Walda Monroe and William Mumford, of Lawrence.
They all spend a lot of time together anyway, Myles said, doing things like playing basketball and attending KU football games.
"Rock Chalk Jayhawk, Go KU!" he added, as if on cue.
For Mumford, the event was a homecoming of sorts — he attended Pinckney in the 1950s.
"The school looks like it shrunk a little bit," he said. "When I was here, it looked like a great big school."
Mumford added that it's nice to be able to stay close to his grandchildren and stay involved in their lives — all 16 of them.
Fifth-grader Adam Sampson had two sets of grandparents dining with him — Marilyn and Harold Sampson of Cleveland, Mo., and Sally and Archie Bedford of De Soto.
Sally Bedford said she appreciated getting to know a little bit about the history of the school along with the usual pleasure of seeing her grandson. Event organizers distributed a brochure detailing the school's history.
Adam said he appreciated attending class in an interesting historical building.
"The school is pretty much social studies," he said.
Cary Allen, school PTO president, helped organize the event.
"I think it's really nice for grandparents to see what a school day is like in their (grandchildren's) lives," Allen said. "They can see how things are different now from when they were in school."
The students agreed — it was pretty spiffy to be able to take some time out of the school day to hang out with grandma and grandpa. Many grandparents came from miles around — from places like Junction City, Ottawa and Springfield, Mo. — to spend an afternoon with their grandchildren.
Others, however, like grandmother Njeri Shomari and fourth-grader Nia Hughes, see each other a little more often. They live together, and frequently take walks, play board games and go shopping together.
They agreed, however, that that didn't dampen Thursday's little pre-Thanksgiving meal at all.
"We have lots to be thankful for," Shomari said.
Copyright 2018 The Lawrence Journal-World. All rights reserved. This material may not be published, broadcast, rewritten or redistributed. We strive to uphold our values for every story published.