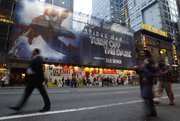 New York — The bugs apparently still need to be worked out on Broadway's version of Spider-Man.
Producers of "Spider-Man Turn Off the Dark" have been forced to delay by three weeks the official opening of the costly and complicated show, and it will only open its doors for previews after the busy Thanksgiving holiday.
"Shows like ours, that embrace the challenge of opening on Broadway without an out-of-town tryout, often need to adjust their schedules along the way," lead producer Michael Cohl said in a statement released Friday, citing an "unprecedented level of technical artistry."
Originally scheduled to begin previews on Nov. 14 with an opening four days before Christmas, the show will now begin previews on Nov. 28 and finally open on Jan. 11, a less-than-ideal timetable for luring the crowds that descend on Broadway over the holidays.
The reported $60 million musical is, by any measure, a huge undertaking. It will have a 41-member cast, 18 orchestra members and aerial stunts designed by a longtime Cirque du Soleil alum that will shoot actors up to 40 mph through the air and over the audience. Its promotional material promises "a thrilling experience in ways never-before-dreamed-possible in live theater."
The delay is just the latest blow for a musical that has been in the works for more than six years. Producers have come and gone, and so have cast members: Evan Rachel Wood and Alan Cumming were once cast as Mary-Jane and the Green Goblin. At one point, the musical was supposed to open in February 2010.
Copyright 2018 The Associated Press. All rights reserved. This material may not be published, broadcast, rewritten or redistributed. We strive to uphold our values for every story published.