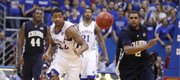 Marcus Morris posted 28 points and seven rebounds, leading the Kansas men's basketball team to a 92-62 victory over Washburn in its first exhibition game Tuesday night at Allen Fieldhouse.
Photo Gallery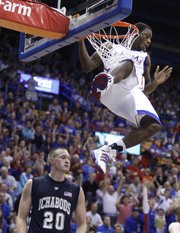 KU vs. Washburn
Related document

KU-Washburn box score ( .PDF )
Selby situation forces changes
Kansas University freshman Josh Selby, who wore a black shirt, black slacks and black shoes while sitting near the end of the bench during Tuesday's exhibition rout of Washburn, still waits for an NCAA ruling on his amateur status.
If the NCAA doesn't make a decision soon, KU coach Bill Self will be forced to adjust practice sessions a bit, limiting Selby's work with the first team.
"It's not been a big deal. It's getting ready to be a big deal because we're getting into situations you just want to know where the finish line is. If you don't know where the finish line is, you can't give him reps. I mean, he's taking reps away from Elijah (Johnson) and whatever," Self said.
"From this point forward, he'll still practice with the first team some, but not much, because if we don't have him until a certain point, there's no reason to take the reps away from somebody else. It's like a second-string quarterback. He's not going to get many reps with the first string that week."
Self said he did not know when the NCAA, which cleared Selby academically last week, will decide on his amateur status.
"The news we got the other day was great," Self said of the academic issue. Self continued his policy of not going into specifics per the NCAAs wishes. "I don't know when the finish line will be, but I think we'll find out when it is pretty soon. Right now I don't have a feel.
"From my perspective, of course I see it biasedly. I'm thinking, 'Gosh let him play,'" Self added, laughing. "I don't know what they have. I don't know what they don't have. I'm not privy to that information."
Self said Selby has played well at the point guard position.
"He's a guy right now that could be a starter for us, but he's not a guy right now you would say, 'That guy could be one of the best three or four players in the league.' Will he get to that point? I don't know. I am a big believer by January or February he could be that guy that's hard to guard," Self said.
Red-shirt status
KU senior Conner Teahan didn't play.
"There's a chance Conner will red-shirt," Self said. "And we will not play him in the next exhibition game more than likely, because if we do, he forfeits that right to red-shirt. He's totally open to that if we decide to go in that direction."
Self said the only other possible candidate to red-shirt would be freshman Royce Woolridge, who had four points and a steal in seven minutes. "I'm not thinking that right now at all, but he can play in both exhibition games (and still red-shirt)," Self said. "There's no reason for us to make a decision right now."
Copyright 2018 The Lawrence Journal-World. All rights reserved. This material may not be published, broadcast, rewritten or redistributed. We strive to uphold our values for every story published.