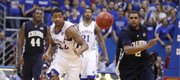 Marcus Morris posted 28 points and seven rebounds, leading the Kansas men's basketball team to a 92-62 victory over Washburn in its first exhibition game Tuesday night at Allen Fieldhouse.
Photo Gallery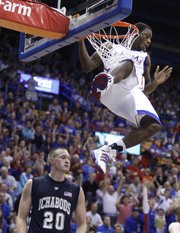 KU vs. Washburn
Related document

KU-Washburn box score ( .PDF )
We all grow up at different rates. For example, maturity-wise, I'm looking forward to my teenage years.
Kansas University junior guard Tyshawn Taylor often didn't seem as grown-up as most teammates the first two years of his college basketball career. He'd show flashes of consistency, lasting as long as a few games, and then lapse back into poor decision-making.
He's a year older and seemingly light-years wiser than when he was mired in the whole in-your-Facebook controversy. In talking to him and watching him play basketball, he just seems as if he has gained a few years of maturity in one year. Of course, the true measure of a young man's emotional stability comes when adversity hits, and there is none of that during a Late Night scrimmage, Media Day and postgame interviews and in an exhibition game against Div. II Washburn.
Still, so far, so encouraging.
Not a gifted passer, Taylor's doing a better job of making the easy pass. Not a natural lights-out shooter, his shot looks better. It's obvious he has been working hard at smoothing out his stroke.
More than anything, Taylor looks and sounds like a young man who has learned how to get out of his own way, and when that happens, everything starts to blossom.
Look for less posing from Taylor after spectacular plays, less hanging of the head after bad ones. Look for Taylor to look ahead to the next play more often instead of looking back at the last one.
Marcus and Markieff Morris, throwing great passes, cutting to the hoop hard, playing physically and exhibiting soft shooting touches, easily were KU's best players in Tuesday night's exhibition opener, a 92-62 victory against Washburn.
And that was just fine with Taylor. He didn't play like a guy driven to earn player-of-the-night honors. He didn't look like a show-off attempting to lead SportsCenter.
The word he kept returning to during postgame interviews was the one that best described his play: solid.
"I need to be the rock for my team," Taylor said. "I can't try to force too much, or do too much. I need to be a solid player. I need to make the easy plays and the smart plays. I need to be a leader vocally and by example. This was definitely a goal of mine. I've been working toward being a leader my entire time here, and I think I did pretty well tonight."
Taylor played 22 minutes, scored 12 points, had three assists and two steals and did not get charged with a turnover, though he had the equivalent of one in his coach's mind.
"He played well tonight," Self said. "He made one bad decision in the first half. He drove into a crowd, and they bailed him out by calling a foul. He's talented. His biggest thing is he's so quick he can get to the paint when he wants to."
On this night at least, Taylor looked like a pitcher blessed with a 100 mph fastball who realizes it's better to throw a 93 mph strike than to walk the park while short-circuiting the radar gun.
If all goes well and Josh Selby gets cleared by the NCAA, by the time Big 12 Conference play arrives, Kansas could have one of the nation's quickest backcourts to complement the nation's best twins.
Copyright 2018 The Lawrence Journal-World. All rights reserved. This material may not be published, broadcast, rewritten or redistributed. We strive to uphold our values for every story published.