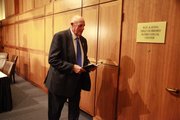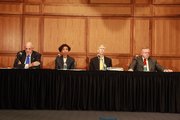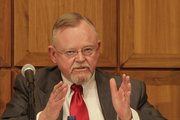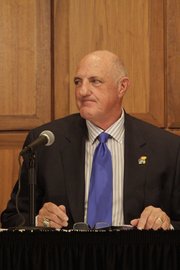 Photo Gallery

Suspects in KU ticket investigation
The ongoing ticket scandal at Kansas Athletics Inc. focuses on employees selling tickets for personal profit. As at least one federal investigation continues, here's a look at some of the players still in the game — some directly implicated by a Kansas University internal investigation, and others whose connections keep them on the sidelines.
Related document

Related document

-->
6News report on ticket investigation
When a scandal hits an athletics department at a major university, its impact is wide-ranging and can affect many different stakeholders of a university, observers say.
Kansas University officials on Wednesday unveiled a report that detailed the illicit distribution of more than $1 million in tickets to KU athletic events.
While members of the higher education community around the country said they were not familiar with the details of the relatively unusual KU situation, turmoil in college athletics is certainly nothing new.
John Thelin, a professor in educational policy studies at the University of Kentucky, has researched major college athletics scandals and has written a book on the topic, "Games Colleges Play."
"Many people, they don't understand this, but I do, because I'm here at the University of Kentucky," he said. "These things are important."
Like Kansas, Kentucky has a top-flight college basketball team that is constantly on the minds of its supporters.
"These teams, they really are central to the life and pulse of the community," he said.
The impact scandals have on top university officials can vary widely from school to school, Thelin said, depending on their involvement with athletics.
"Some will try to distance themselves from it, while others seem to revel in it and embrace it," Thelin said.
T.K. Wetherell, a former president at Florida State University, was in charge during an NCAA investigation into academic fraud at the athletics department.
When there's turmoil in the athletics department at a major school, that can have all sorts of implications, he said, calling the athletics department a school's "window to the world."
On Saturday afternoons, he said millions of people are exposed to Florida State for four hours during football games, and the things said during a telecast can shape people's opinions of the school.
"While you may do well on the academic side, you don't have that opportunity to showcase it," Wetherell said.
When things go wrong, it's important to identify the issue and move forward, Wetherell said.
"I think for the donors and your boosters and fans, even if you make a mistake, it's about how you go about rectifying that mistake," that will restore trust, Wetherell said.
One area in which it will almost guaranteed to have an effect, Wetherell said, is in recruiting of top-flight athletes.
Coaches at other schools, Wetherell said, will sometimes exaggerate a scandal's impact on impressionable 18-year-old minds, telling them that if they go to a troubled school, for example, they may not have a chance to play in a tournament or bowl game.
"That's the kind of thing that probably haunts you more long-term than the rest," Wetherell said.
Members of the Kansas Board of Regents — who oversee the state's university presidents and chancellors — made it clear Wednesday that the issue is an important one to them, too.
Board chairwoman Jill Docking issued a strongly worded statement that said the board wanted a report on the issue in June from KU's chancellor detailing how the university would respond to the report and its allegations.
Gary Sherrer, regents vice chairman, said that he had received KU's internal investigation report on Wednesday morning. He said KU should be sure to pay attention to what the report says should be done, but added the chancellor "certainly isn't limited" to the report's recommended remedies.
"We expect these recommendations to be dealt with along with others that may be necessary," Sherrer said.
He said he was "confident" that Gray-Little and KU would address the issue and do it right — so the focus could return to other pressing issues facing higher education institutions in the state.
Copyright 2018 The Lawrence Journal-World. All rights reserved. This material may not be published, broadcast, rewritten or redistributed. We strive to uphold our values for every story published.