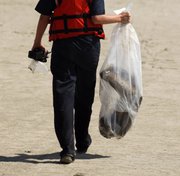 Grand Isle, La. — The spectacle many had feared for a month finally began unfolding as gooey, rust-colored oil washed into the marshes at the mouth of the Mississippi for the first time, stoking public anger and frustration with both BP and the government.
The sense of gloom deepened as BP conceded what some scientists have been saying for weeks: that the oil leak at the bottom of the Gulf of Mexico is bigger than the company previously estimated.
Up to now, only tar balls and a sheen of oil had come ashore. But on Wednesday, chocolate brown and vivid orange globs, sheets and ribbons of foul-smelling oil the consistency of latex paint began coating the reeds and grasses of Louisiana's wetlands, home to rare birds, mammals and a rich variety of marine life.
There were no immediate reports of any mass die-offs of wildlife or large numbers of creatures wriggling in oil, as seen after the Exxon Valdez disaster, but that was the fear.
A live video feed of the underwater gusher, posted online Thursday after lawmakers exerted pressure on BP, is sure to fuel the anger.
It shows what appears to be a large plume of oil and gas still spewing into the water next to the stopper-and-tube combination that BP inserted to carry some of the crude to the surface. The House committee website where the video was posted promptly crashed because so many people were trying to view it.
"These videos stand as a scalding, blistering indictment of BP's inattention to the scope and size of the greatest environmental catastrophe in the history of the United States," said Rep. Edward J. Markey, D-Mass.
At least 6 million gallons have gushed into the Gulf — more than half the amount the Exxon Valdez tanker spilled in Alaska in 1989 — since the Deepwater Horizon drilling platform exploded 50 miles off the coast April 20. Eleven workers were killed.
Copyright 2017 The Associated Press. All rights reserved. This material may not be published, broadcast, rewritten or redistributed. We strive to uphold our values for every story published.