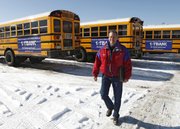 Seattle — School districts have imposed all sorts of drastic cuts to save money during the down economy, canceling field trips and making parents pay for everything from tissues to sports transportation.
And some have now resorted to placing advertisements on school buses. School districts say it's practically free money, and advertisers love the captive audience that school buses provide.
That's the problem, say opponents: Children are being forced to travel to school on moving media kiosks, and the tactic isn't much different from dressing teachers in sponsor-emblazoned uniforms.
"Parents who are concerned about commercial messages will have no choice," said Josh Golin, associate director of Campaign for a Commercial Free Childhood. "Parents won't be given the option to send their kids on the ad-free bus."
Washington lawmakers considered the idea of school bus advertising this year, and the concept is also being tossed around in Ohio, New Jersey and Utah. About half a dozen states already allow bus advertising — including Colorado, Arizona, Florida, Minnesota, Tennessee and Texas.
The idea can be traced back about 15 years, but budget woes have led to a recent resurgence.
"This issue comes up on a regular basis when funding gets tight and people are looking for alternative ways to fund school transportation," said John Green, supervisor for school transportation at the California Department of Education.
Green has a long list of reasons California has not sold ads on its school buses. He says bus ads are rarely as lucrative as the school district expects, they may distract drivers and lead to accidents, and keeping unwanted ads off buses may not be as easy as people think.
A highway authority in Southern California recently lost a court case over its attempt to prevent the Minutemen militia group from "adopting a highway" and putting a sign on the freeway. The judge decided the case on First Amendment issues.
"I'm thinking that logic would hold for school transportation," Green said.
In staff meetings when the idea of bus advertising comes up, Green says he quashes the idea by suggesting other school marketing opportunities. "Why not just have the teachers wear a uniform similar to NASCAR drivers?" Green wants to know. "Even though that's kind of a joke, my point is, why do they single out the school bus? Why not paint a billboard alongside the school?"
Jefferson County Schools, the largest district in Colorado with more than 84,000 students in 150 schools covering more than 777 square miles, has a three-year contract with First Bank of Colorado that is worth about $500,000 over four years, said district spokeswoman Melissa Reeves.
That translates into about $7 a day per bus for the length of the contract, still a fraction of the district's total $959 million budget but important when every dollar counts.
In addition to having its logo on 100 of the district's 350 school buses, First Bank also will be prominently displayed in every high school gym, on the district Web page, in district stadiums and in company announcements during most varsity sporting events.
School bus advertising has been getting some traction in the past two years, as it did during the 2001 economic downturn, said Mike Griffith, a policy analyst for the Education Commission of the States. His organization does not keep track of which states allow school bus advertising, but he noted that few states have legislation or rules that specifically disallow it.
Copyright 2018 The Associated Press. All rights reserved. This material may not be published, broadcast, rewritten or redistributed. We strive to uphold our values for every story published.