Photo Gallery
Jayhawks practice in Oklahoma City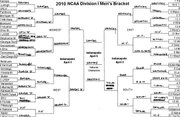 New York — The First Fan appears to be a big fan of basketball programs from Kansas.
President Barack Obama predicted Kansas University and Kansas State to join Kentucky and Villanova in the men's basketball Final Four this season, with the Jayhawks defeating Kentucky for the title.
Obama filled out a bracket for ESPN for the second straight year Wednesday.
Last year, Obama correctly picked North Carolina to win the national championship. His bracket ranked 903,125th overall, just above the 80th percentile in ESPN's online contest.
"He is 1-0, isn't he?" Kansas coach Bill Self said. "I saw that. Since he was right last year, I think he's a very wise man. Obviously, he's a wise man anyway. Hopefully, it'll play out to be true. I'm sure it's all in good fun."
Obama predicted in January that Kentucky would reach the national championship game when he called coach John Calipari to congratulate the program on raising more than $1 million as part of the "Hoops for Haiti" telethon.
Obama said he likes the Jayhawks' experience, including senior guard Sherron Collins.
"Balanced team. They've got Collins in the backcourt. I always like teams in the tournament who've got experience," Obama told ESPN's Andy Katz. "Terrific guards."
Kansas sophomore forward Markieff Morris certainly approved of the president's pick.
"That's my main man, now," Morris said. "I smiled a lot. He chose North Carolina last year, and North Carolina won it. And he chose us this year. Maybe he can be right two years in a row."
If things play out like Obama anticipates, the Jayhawks would have to beat Kansas State for the fourth time this season to reach the national championship game.
Asked if Obama had seen K-State coach Frank Martin and his menacing sideline glare, the president replied: "I have. He's a scary dude. I could send him up to Congress to get them to vote for health care.
"I'll tell you what, Kansas State impresses me," Obama said. "They always play tough. And I think they're going to be motivated. They get to the Final Four."
Obama predicted several first-round upsets: No. 13 seed Siena over Purdue, 12th-seeded Cornell to beat Temple and Murray State to upset fourth-seeded Vanderbilt.
"I think it's cool, man. I'm not sure that's what the president should be doing all day," Kansas sophomore Tyshawn Taylor joked. "He picked North Carolina last year. Hopefully, that's good luck for us."
Other teams that Obama likes include No. 1 seeds Syracuse and Duke, both of which he has losing in the round of eight, second-seeded West Virginia and No. 3 seed Georgetown.
"We want to go meet him," Morris said of a potential trip to the White House. "That's the only way we're going to meet him is to win a national championship. That's what we're trying to do."
— KU basketball beat writer Gary Bedore contributed to this story.
Copyright 2018 The Lawrence Journal-World. All rights reserved. This material may not be published, broadcast, rewritten or redistributed. We strive to uphold our values for every story published.