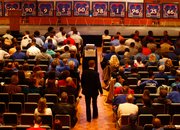 Several underclassmen received their due, but Saturday's 2009 Kansas University football awards ceremony at the Kansas Union was all about the seniors.
They won 31 games in four seasons, became the first class in school history to record back-to-back bowl victories, saw their 2007 team ranked as high as second in the nation, won the Orange Bowl that same season and set records for average home attendance in four consecutive years.
As Kansas University athletic director Lew Perkins put it, "You guys have been awesome."
During an hourlong ceremony, hosted by former Jayhawk David Lawrence, several members of the senior class received recognition for the honors they racked up during 2009.
Captains Darrell Stuckey, Kerry Meier, Jake Sharp and Todd Reesing each made more than one walk from the first few rows of the ballroom to the stage, where Lawrence and George Matsakis, KU's director of football operations, handed out plaques, trophies and certificates commemorating their achievements. Neither former coach Mark Mangino nor current KU boss Turner Gill was in attendance.
After Reesing had accepted an award recognizing him as one of 16 college football players to receive the National Football Foundation Scholar Athlete award and also picked up the team's Senior Academic Scholar Award, Lawrence quipped, "He's going to burn a lot of calories walking up here tonight."
He wasn't alone. Stuckey was honored with the Galen Fiss Award for exemplary service to campus and community. He also received the Willie Pless Award for most tackles in a single season, with 93. In doing so, Stuckey became the first non-linebacker to win the award since 2000.
Meier received the Nolan Cromwell Award for leadership and also was honored with the Don Fambrough Award — which he shared with junior Chris Harris — as the team's most unselfish player.
"He'll leave here being a legend for his unselfishness and, obviously, his play," Lawrence said.
As for the heavy hardware, Reesing walked away with the John Hadl Award as the team's offensive player of the year for the third straight season. He finished 2009 with 3,616 yards passing and 22 touchdowns. He leaves Kansas with 26 school records, including most passing yards and touchdowns in a single game, season and career.
The Ray Evans Award, which was given to the defensive player of the year, went to junior defensive end Jake Laptad, who finished the season with 49 tackles — 12 for loss — and led the team with 6.5 sacks.
One member of the senior class who received little recognition throughout his career, but the loudest ovation on Saturday night, was long snapper Kayl Anderson. Anderson was awarded the Bruce Kallmeyer Award for special teams player of the year and senior defensive back Justin Thornton said the hooting and hollering that Anderson received was long overdue.
"He's one of those guys who did his job quietly and never really got any kind of recognition," Thornton said. "It was good to see someone who's contributed so much to this program finally get some recognition."
The only other senior to receive an individual award on Saturday was running back Jake Sharp, who was honored with the Iron Hawk Award for outstanding performance in the weight room. Although he appreciated the recognition, Sharp said his favorite part of the night was being with his teammates.
"It's cool, it's definitely nice to get together with all the guys one more time and reminisce," he said. "I had a good time here at the University of Kansas. We had a great run and I met a lot of great people. I was really lucky to have that chance."
Next on the Kansas football calendar is the school's pro day Wednesday, in which scouts from several NFL teams will come to Lawrence to put any Jayhawks eligible for this year's NFL Draft through workouts. After that, spring practices are slated to being March 27 and the annual Spring Game has been set for April 24.
Copyright 2018 The Lawrence Journal-World. All rights reserved. This material may not be published, broadcast, rewritten or redistributed. We strive to uphold our values for every story published.