Lawrence High School vocal teacher Cathy Crispino had a lot of work to do with her a cappella choir class Monday.
So when Superintendent Rick Doll and Principal Matt Brungardt brought in a large delegation of her friends, family and coworkers, Crispino questioned the interruption.
But the good news that was delivered had her students immediately cheering.
Doll honored Crispino — who has taught in Lawrence schools since 1996 — as the district's 2010 Secondary Teacher of the Year.
"It was completely unexpected, and it's a great honor," said Crispino, who taught in Kansas City, Kan., public schools for 16 years before coming to Lawrence.
Doll said Crispino was a "shining star among many, many bright stars" in the district's teaching force.
Jeanne Averill, an LHS English teacher who nominated Crispino, said the vocal teacher was both a talented artist and a talented teacher combined into one.
"Cathy is one of the reasons many students love to go to school at Lawrence High," Averill said. "They know they will be able to walk into her classroom and be plunged into beautiful music that will lift their hearts and spirits."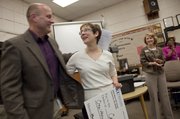 Crispino received another major honor two years ago as the 2008 Kansas Music Educators Association's High School Choral Teacher of the Year.
She said Monday's honor was humbling because she works with so many talented teachers in the district. She's also driven by helping her students each day.
"Learning how to sing together is learning how to be together," she said. "And I never get tired of that. I think we're creating something special — memories for the kids in everything that we do."
The district will place a photo of Crispino at district headquarters. She will be the district's nominee for the state award, and KU Credit Union presented her with a $1,000 check.
Doll and his prize patrol will surprise the district's top 2010 elementary teacher of the year today.
Copyright 2018 The Lawrence Journal-World. All rights reserved. This material may not be published, broadcast, rewritten or redistributed. We strive to uphold our values for every story published.