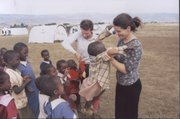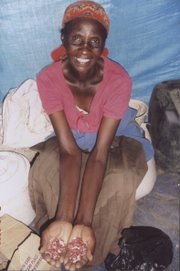 Ruaa Hassaballa loves the power of a good story.
Hassaballa, born in Sudan, is a senior at Free State High School. She'll be traveling to Kenya this summer to listen to the stories of the families displaced by the country's internal struggles, and of mothers of disabled children.
"I want to hear their experiences," Hassaballa says. "That story-telling can help me a lot in experiencing things in my own life that I encounter."
She is one of four Free State students — and one recent graduate — who will travel to Kenya as part of Miriam's Circle Community Storytelling Team.
The team is an outgrowth of the Social Awareness Club at Free State, which also organized domestic volunteer projects such as an ongoing pen pal project with elementary school students in Topeka.
Tyler Arachtingi, a former Free State student, traveled to Kenya two years ago as part of the Lawrence-based nonprofit Comfort the Children International. FSHS social studies teacher Andrew Nussbaum, his mother and their friend, Autumn Riff, traveled to Kenya last year to lay the foundation for this summer's trip.
The students will meet with Kenyans to hear and document their stories. While others with Comfort the Children International are working in areas such as health care and education, Nussbaum says he expects the Miriam's Circle team to return to the United States to help spread the word about the needs in Africa.
"Miriam's Circle" refers to a woman Nussbaum met during the pilot group's trip last year. Miriam's daughter has cerebral palsy. Volunteers with CTC have pooled money to help pay for Miriam to work at the school for disabled children that her daughter attends.
After his trip last year, Nussbaum said he started talking with specific students who be believed could make a positive impact in Kenya. He and Riff, who also will be on the return trip, want to address "girl effect" — the social justice principle that women bring positive change when allowed to be more involved in society — and gender equity issue by having an all-female student team.
"We want to connect these girls with those girls in Kenya," Riff says.
As far as the specifics of the trip — which is scheduled for June 13-25 — Nussbaum says those working in Kenya will help direct that.
"I don't think anybody knows what we're going to do and how we're going to help," he says.
Still, those going on the excursion are excited to help in any way that presents itself.
"It seemed like a great opportunity to expand my horizons and have new experiences," says Michelle Wilson, a 2009 FSHS graduate now attending Kansas University.
Adds Hayley Francis, a junior at Free State: "I want to be something that's bigger than me."
The group will spend the next few months learning about Kenya through classes provided by the Kansas African Studies Center at KU, learning about basic Swahili, cultural norms and other topics.
Members also will be fundraising. At Applebee's, 3900 W. Sixth St., they will receive 15 percent of the bill from 10:30 a.m. to midnight Thursday, March 11 and 18, and April 1. Donors can also contact Riff at gaiag123@yahoo.com or Nussbaum at anussbau@usd497.org.
They group also is planning additional fundraisers, perhaps a dinner event.
Carlin Francis, a senior at Free State, says she hopes to build on the roots already set by last year's scouting trip to Kenya.
"I've heard the comments and stories from last year," she says. "They've kept up with these people, and I want us to go ton and experience it for ourselves."
Copyright 2018 The Lawrence Journal-World. All rights reserved. This material may not be published, broadcast, rewritten or redistributed. We strive to uphold our values for every story published.