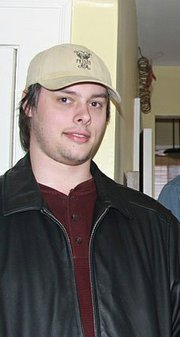 A Tonganoxie woman is seeking information about the whereabouts of her son, whose truck was found two weeks ago at a lake in southeast Kansas City, Mo.
Joyce Stevens said her son, Luke Stevens, 23, last was seen May 26 at his Tonganoxie home.
The dark blue 1983 Chevrolet truck that he was driving was found June 2 at 930-acre Longview Lake.
The Tonganoxie Police Department is working on the case, along with the Jackson County, Mo., sheriff's office.
Tongan-oxie police Lt. Billy Adcox said Tuesday that his department is following leads in the missing persons case, "but we need mostly the public's help trying to locate him," Adcox said.
Attempts to reach officials at Jackson County Sheriff's Office were unsuccessful Tuesday afternoon.
Joyce Stevens said she wasn't aware of the lake being a place her son visited, except several years ago with a youth group.
A $1,000 reward has been established for anyone who has information that leads to Luke Stevens' whereabouts.
Anyone with information is asked to call Tonganoxie police, 913-845-2311, or e-mail Joyce Stevens at findluke@hotmail.com.
Copyright 2018 The Lawrence Journal-World. All rights reserved. This material may not be published, broadcast, rewritten or redistributed. We strive to uphold our values for every story published.