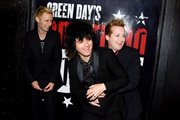 New York — Since musical scores are the pulsing lifeblood of Broadway musicals, it stands to reason that the Tony Award for best musical and the Tony Award for best original score have frequently gone to the same show. But unless the genial blues musical "Memphis," a show about early rock 'n' roll set in that city, sweeps the boards from Beale Street (which could happen), that won't be the case when Sean Hayes hosts the awards ceremony today at Radio City Musical Hall.
There are four nominated shows in the prestigious best musical category. Incredibly, only "Memphis" has an original score.
Of the other three, "American Idiot" is a theatricalization of the Green Day rock album released in 2004; "Fela!" is a celebration of the life and music of Fela Kuti, the Nigerian musician and activist; and "Million Dollar Quartet" is a re-creation of the night Jerry Lee Lewis, Elvis Presley, Johnny Cash and Carl Perkins jammed together at Sam Phillips' Sun Studios and is peppered with jukebox classics.
"American Idiot" — a singular fusion of nihilistic fury and aspirational melody — and "Fela!" — a similarly immersive experience in the freedom-loving power of Afrobeat — are worthy Tony winners. ("Fela" probably has the edge, if it can hold off the more traditional "Memphis.") But this curious state of Tony affairs reveals at least two interesting truths.
It is now much easier to score a Broadway berth and hit with a show for which the music is already written (and already popular). And the 2009-10 season was not a great year for new American musicals.
For the evidence, you need only look to the best score category. There's the favorite, "Memphis," a tuneful but hardly formatively dazzling set of songs from composer David Bryan, lyrics by Bryan and writer Joe DiPietro. And there's Andrew Lippa's score for "The Addams Family," a more ambitious suite of songs, for sure, but a score that has received some harsh criticism, not to mention the misfortune of being stuck inside a show that was mostly ignored by the Tony Award nominators. (The fine performance of Kevin Chamberlin as Fester is an exception; he's nominated for featured actor in a musical.) The other two nominated scores — Branford Marsalis' plaintive work on Kenny Leon's revival of "Fences," and Adam Cork and Lucy Prebble's insouciant set of pastiches for the political drama "Enron" — weren't even written for full-on musicals; the former is a play with background music, and the latter is a play-musical hybrid.
At least all of the nominees for best revival of a musical were for shows with worthy scores, including "Ragtime" and "A Little Night Music." The imported British version of "La Cage aux Folles" is likely to take this prize, although the perfectly toned and gorgeously sung "Finian's Rainbow" remains a sentimental favorite.
Play time
The season was far stronger when it came to plays. In "Red," John Logan's play about painter Mark Rothko and a prismatic exploration of the forces that compete for any artist's soul, Broadway has a masterful new drama that should win the Tony over Geoffrey Nauffts' more predictable "Next Fall" and Sarah Ruhl's "In the Next Room (or the vibrator play)." But Donald Margulies' "Time Stands Still," which benefited from an extraordinary performance from Laura Linney, has a chance.
Linney has the formidable and probably impossible task of beating out Viola Davis' grippingly pained performance in "Fences." ("Fences" will fight with the similarly revelatory show "A View From the Bridge" for the Tony for best revival of a play.) And the stellar Denzel Washington will go mano a mano against Alfred Molina's dazzling turn as Rothko in "Red" and Liev Schreiber's prescient depiction of anti-immigrant sentiment in "A View From the Bridge" for best actor in a play, not that Christopher Walken in "A Behanding in Spokane" or Jude Law in "Hamlet' were slouches.
There may not have been many honest-to-goodness musicals this season on Broadway, but there was plenty of magnificently truthful acting.
Chicago triumphs
The 2009-10 season will be remembered as a magnificent year for Chicago on Broadway — shows with local connections included the Steppenwolf Theatre Company production of "Superior Donuts," Keith Huff's "A Steady Rain," "The Addams Family" and "Million Dollar Quartet."
At the start of the season, hometown partisans could have reasonably expected more to cheer for June 13. But "Steady Rain" was dismissed as a star vehicle for Hugh Jackman and Daniel Craig, "The Addams Family" is mostly having to make do with being a populist hit with audiences (don't cry for them), and "Superior Donuts" served up only Jon Michael Hill, nominated for best featured actor in a play. Hill has a fighting chance against an equally prodigious and gifted outsider, the splendid young British actor Eddie Redmayne.
Chicago can rightly claim ownership of Logan's chops on "Red." Weaned at Victory Gardens and a proud Chicago writer, the playwright has absolutely no quarrel with that. And Gregory Mosher, the justly acclaimed director of "A View From the Bridge" who once ran the Goodman Theatre, has acknowledged a similar debt to the Chicago, where he says many of the ideas he used in that show first germinated.
But even if it scores no Tony awards, the big local winner will still be "Million Dollar Quartet," skillfully shepherded to Broadway by Gigi Pritzker, even though the piece was hardly an obvious candidate for success on the Great White Way. If the indefatigable Levi Kreis can pull out a Tony for best featured actor in a musical (and I wouldn't bet too much against him), Pritzker will have reason indeed to celebrate.
Copyright 2018 The Lawrence Journal-World. All rights reserved. This material may not be published, broadcast, rewritten or redistributed. We strive to uphold our values for every story published.