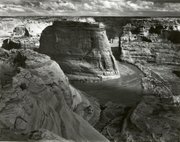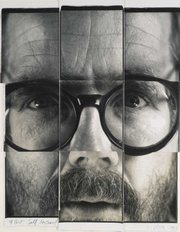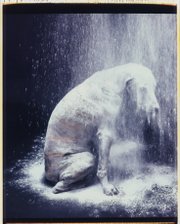 New York — A striking black-and-white photograph of the majestic Bridalveil waterfall is among numerous that landscape photographer Ansel Adams took with Polaroid film — a technology many celebrated artists embraced to produce innovative and surprising works.
The mural-sized iconic image, "Bridalveil Fall, Yosemite," is going on the auction block at a pre-sale estimate of $70,000 to $100,000.
"It is the largest and best collection of works by Ansel Adams to ever come on the market, representing a broad spectrum of most of his career," said Sotheby's photography expert Denise Bethel.
The image is among 1,000 Polaroid and gelatin silver prints by some of the biggest names in 20th-century photography being offered at Sotheby's on June 21-22 as part of a bankruptcy court-approved sale. The prints are being sold by PBE Corp., a previous owner of the Polaroid brand.
The Polaroid camera was the invention of Edwin H. Land, whose revolutionary 1948 technology for instant photography was not matched until the arrival of the digital camera almost 40 years later.
Land hired Adams as a consultant a year after the camera hit the market — a collaboration that lasted 35 years. The photographer produced some of the most sweeping and dramatic black-and-white photos of the American West, especially of the national park system.
Soon after coming to Polaroid, Adams began building the company's collection, acquiring works by such lens masters as Dorothea Lange, Margaret Bourke-White, Edward Weston, Imogen Cunningham and William Garnett. He also selected works by emerging artists whose work he admired.
The collection continued to grow under a company initiative started around 1960 known as the Artist Support Program, with images by such contemporary artists as Chuck Close, William Wegman, Lucas Samaras and David Levinthal.
The images at Sotheby's constitute the cream of the storied collection of 16,000 photographs, many taken with a variety of Polaroid cameras and films — from the immense 40-by-80-inch camera that required three technicians to operate to several small instant cameras that were commercially popular for decades. The 1,000 images are estimated to bring $7.5 million to $11 million, representing about 90 percent of the total collection's value.
Copyright 2018 The Associated Press. All rights reserved. This material may not be published, broadcast, rewritten or redistributed. We strive to uphold our values for every story published.