Chicago — Talk about a hard-knocks life: She has been jailed in North Korea, kidnapped repeatedly, accused of murder, trapped in a cave, roughed up by gangsters. And she's just a kid — more precisely, a red-haired girl named Annie.
Over 86 years, the spunky (and forever young) orphan has endured hundreds of curly hair-raising adventures, not to mention homelessness, poverty and other Dickensian hardships. She's even survived the death of the man whose pen and imagination turned her into a comic-strip heroine.
Annie, the character, may be indomitable. But Annie, the comic strip, is not.
Facing a shifting media landscape — the closing or shrinking of newspapers, a dwindling audience for comic adventures and an explosion of new forms of entertainment — Tribune Media Services has determined there will be no more newspaper tomorrows for Annie.
After today's strip, Annie, her father figure and frequent rescuer, Daddy Warbucks, and her beloved pooch, Sandy, will disappear from the funny pages. They will have a future, but for now, where that will be is unknown.
"Annie is not dying, she's moving into new channels," says Steve Tippie, vice president of licensing and new markets development at Tribune Media, which owns the license to the character. Annie, he says, has "huge awareness" and possibilities include graphic novels, film, TV, games — maybe even a home on a mobile phone.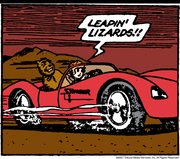 An American icon
No matter where she lands, it's clear there's still gold in that red mop of hair and those white, pupil-less orbs. Tribune Media continues to collect revenues from various productions of "Annie," the sunny musical that charmed Broadway more than 30 years ago — and is expected to return to the Great White Way in 2012.
"Annie is one of those iconic characters in American culture," Tippie says. "If you stop 10 people on the street, nine of them will drop down on one knee and start singing 'Tomorrow."'
It was, in fact, the popularity of the musical that gave the strip a second life. Tribune Media revived the comic after the death of its creator, Harold Gray, who had used Annie as a megaphone for his conservative political views.
From its opposition to the New Deal in the '30s to its hard-line in the war on terror, the comic strip has never shied away from its beliefs.
"I always like to think of Annie as the Fox News Channel of the funny papers," says Jay Maeder, Annie's most recent writer. "It was a very political strip."
But even with timely story lines, public interest in newspaper comic adventures faded decades ago. Fewer than 20 newspapers ran the strip at the end — which, by the way, leaves Annie's fate hanging as she remains in the clutches of a war criminal, the Butcher of the Balkans.
Still, Annie had one amazing run. And one of her creators thinks he knows why.
"The appeal of Annie is simply that she doesn't give up," says Ted Slampyak, the strip's artist for the last six years. "She always ends up in one scrape after another. She doesn't have a lot of resources but she has a lot of spirit, a lot of pluck. She's got a lot of fight in her."
Being a girl — and one who'd occasionally deck an enemy with a mean left hook — also gave her a special cachet.
"She's sort of a female Huck Finn," says M. Thomas Inge, author of "Comics as Culture" and professor of humanities at Randolph-Macon College in Virginia. "The fact that she was surviving on her own made her attractive."
Funnies girl
Annie was created by Gray, a farm boy from Kankakee, Ill., whose love of Dickens novels was reflected in his character's triumphs over greedy bankers and phony reformers with colorful names such as Phineas P. Pinchpenny and Mrs. Bleating Hart.
The comic strip debuted in 1924 when Americans still were watching silent movies, Prohibition was a reality and a home entertainment center meant a radio the size of an end table. Annie expanded to the airwaves during the '30s when families, looking for a respite from the Depression, tuned in to follow the exploits of a feisty girl who took guff from no one.
Annie quickly moved beyond newsprint and radio, blossoming into a multimedia star: Comic books, movies, a doll and board game in her name, celebrity endorser (Ovaltine, anyone?) with her own decoder ring, and later, her own U.S. postage stamp.
But her home base was the funnies.
Annie did undergo a modest makeover over the years:
The "Little Orphan" was dropped in the late '70s. And she finally traded her red dress with the white collar for sneakers and jeans. But Annie remained a plainspoken girl — a favorite expression was "leapin' lizards!" — who preferred the company of working stiffs to those who put on airs.
Copyright 2018 The Associated Press. All rights reserved. This material may not be published, broadcast, rewritten or redistributed. We strive to uphold our values for every story published.