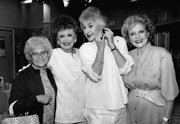 New York — Rue McClanahan, the Emmy-winning actress who brought the sexually liberated Southern belle Blanche Devereaux to life on the hit TV series "The Golden Girls," has died. She was 76.
Her manager, Barbara Lawrence, said McClanahan died Thursday morning at NewYork-Presbyterian Hospital of a brain hemorrhage.
She had undergone treatment for breast cancer in 1997 and later lectured to cancer support groups on "aging gracefully." In 2009, she had heart bypass surgery.
McClanahan had an active career in off-Broadway and regional stages in the 1960s before she was tapped for TV in the 1970s for the key best-friend character on the hit series "Maude," starring Beatrice Arthur. After that series ended in 1978, McClanahan landed the role as Aunt Fran on "Mama's Family" in 1983.
But her most loved role came in 1985 when she co-starred with Arthur, Betty White and Estelle Getty in "The Golden Girls," a runaway hit that broke the sitcom mold by focusing on the foibles of four aging — and frequently eccentric — women living together in Miami.
"Golden Girls" aimed to show "that when people mature, they add layers," she told The New York Times in 1985. "They don't turn into other creatures. The truth is we all still have our child, our adolescent, and your young woman living in us."
Blanche, who called her father "Big Daddy," was a frequent target of roommates Dorothy, Rose and the outspoken Sophia (Getty), who would fire off zingers at Blanche such as, "Your life's an open blouse."
Fellow "Golden Girl" Betty White called McClanahan a close and dear friend.
"I treasured our relationship," said White, who was working in Los Angeles on the set of her TV Land comedy "Hot in Cleveland" on Thursday. "It hurts more than I even thought it would, if that's even possible."
McClanahan snagged an Emmy for her work on the show in 1987. In an Associated Press interview that year, McClanahan said Blanche was unlike any other role she had ever played.
Her Blanche Devereaux, she said, "is in love with life and she loves men. I think she has an attitude toward women that's competitive. She is friends with Dorothy and Rose, but if she has enough provocation she becomes competitive with them. I think basically she's insecure. It's the other side of the Don Juan syndrome."
The We TV cable network said it would honor McClanahan with a marathon of "Golden Girls" episodes featuring Blanche tonight. The Logo network said it would replay all episodes of "Sordid Lives," her last TV series, on Sunday.
McClanahan was born Eddi-Rue McClanahan in Healdton, Okla., to building contractor William McClanahan and his wife, Dreda Rheua-Nell, a beautician. She graduated with honors from the University of Tulsa with a degree in German and theater arts.
McClanahan was married six times: Tom Bish, with whom she had a son, Mark Bish; actor Norman Hartweg; Peter D'Maio; Gus Fisher; and Tom Keel. She married Morrow Wilson on Christmas Day in 1997.
Copyright 2018 The Associated Press. All rights reserved. This material may not be published, broadcast, rewritten or redistributed. We strive to uphold our values for every story published.