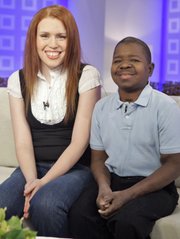 Salt Lake City — Former child TV actor Gary Coleman and his wife were divorced in 2008, an attorney for the late "Diff'rent Strokes" star said Wednesday, the same day a tape of a 911 call was released that detailed her call for help.
Randy Kester told The Associated Press that Coleman and Shannon Price divorced in August 2008 and Coleman never told him the two had remarried.
"Gary shared a lot of things with me," Kester said. "That's probably something he would have told me."
Coleman died Friday at the age of 42 after suffering a brain hemorrhage. He was taken off life support, but it's not clear who made that decision.
Kester said he does not know.
"Now issues are being raised about whether or not Shannon had authority to terminate the life support," he said.
A spokeswoman with Utah Valley Regional Medical Center told AP she cannot release any additional information about Coleman's death.
Utah divorce decree documents list only a John Doe and Jane Doe as parties, but the last page lists Price's name and address, saying a copy of the decree was mailed to her. The decree is dated Aug. 12, 2008. The couple wed in August 2007 after meeting on the set of the 2006 comedy "Church Ball."
Kester said he is not aware of a will for Coleman and that the two discussed the need to meet and work on one as recently as four or five weeks ago.
A message left for a representative for Shannon Price was not immediately returned Wednesday.
On the 911 call from May 26, Price can be heard asking a Utah emergency dispatcher to send help for Coleman, who was bleeding from the back of his head and "bubbling at the mouth" after falling at his Santaquin home, about 55 miles south of Salt Lake City.
In the recording, Price refers to Coleman as her husband.
"I just don't want him to die," Price tells the female dispatcher during the nearly six-minute call. "I'm freaking out like really bad."
Price said she's not sure whether Coleman had a seizure or whether he hit his head and fell. She said he had just gotten home and was going downstairs to make some food for her and that she then heard a "big bang."
"Send someone quick because I don't know if he's like gonna be alive cause there's a lot of blood on the floor," Price said.
Coleman is lethargic and Price says she "can't really help him" and can't drive or handle too much stress because she has seizures.
"I looked at the back of his head and it's all bloody and gross," Price said. "He's conscious but he's not, like, with it."
Santaquin Police Chief Dennis Hammond has said Coleman had a dialysis treatment that day. It's unclear whether that may have been related to Coleman's fall.
Coleman's short stature of 4-foot-8 stemmed from kidney problems and required at least two transplants earlier in his life and dialysis. Last fall, he had heart surgery complicated by pneumonia, Kester has said. In February, he suffered a seizure on the set of "The Insider."
Copyright 2018 The Associated Press. All rights reserved. This material may not be published, broadcast, rewritten or redistributed. We strive to uphold our values for every story published.