Photo Gallery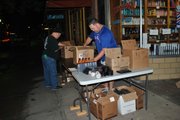 2010 Sidewalk Sale Photos
Shoppers analyze their purchases, spending
Annual Downtown Lawrence Sidewalk Sale
12,000 to 13,000 — A rough estimate of how many people attended Thursday's sidewalk sale
60 — Downtown merchants selling goods on the sidewalk. Another 15 or so had deals inside their stores.
50th — The anniversary of the sidewalk sale, which was celebrated with a cake.
91 — The temperature in Lawrence about 3 p.m.
5 a.m. — When shoppers started showing up at the sidewalk sale
2,500 and 1,000 — Number of water bottles and cookies that Clinton Parkway Assembly of God had handed out by 12:30 .m.
Too many to count, that's how many Lawrence sidewalk sales Carol Supancic has attended.
On Thursday, Supancic started her day at 6:30 a.m. combing the racks at Sunflower Outdoor and Bike Shop. She didn't have to turn far to get an opinion on an item. Close by were 14-year-old daughter Timber, sister Joyce Burns and another sister, Lisa Thompson, who had flown in from Houston.
"We make sure to make every single one," said Supancic, who takes off work for the sale each year. "It's just a lot of fun. You run into a lot of people that you know and a lot of good bargains."
From Sunflower the group moved on to Hobbs Inc. and had plans of tackling The Etc. Shop, Yarn Barn, Phoenix Gallery and Weaver's. And, to make the day a three-generation event, the sisters were meeting Mom for lunch.
By 7:30 a.m., Supancic guessed she had shelled out around $200, mostly on shirts for the family.
"I save up particularly for this sale. I actually end up doing a lot of Christmas shopping here," she said.
Supancic and Burns were still talking about the deal of the century from a recent sidewalk sale: a black velvet burnout dress from the upstairs floor of the now-closed Arensberg's Shoes. It cost $5.
They sent the dress to Thompson, who owns a bed and breakfast in Houston and has taken the dress with her to Dubai and Munich.
"I don't know if we could top that one. I'm sorry that Arensberg's is gone," Supancic said.
The sisters weren't the only ones out just after dawn on Thursday morning.
Crowds seemed to come earlier than usual, said Jane Pennington, director of Downtown Lawrence Inc. In fact, some merchants had trouble setting up at 5:30 a.m. with shoppers already on the street.
Among them was Gene Nutt, who was setting up tables full of $3 used DVDs and video games in front of his store, Game Nut.
"It was super packed right from the start," Nutt said.
Another early shopper was Heidi Simon, who had heard lots about the deals at the sidewalk sale in the 10 years she has lived in Lawrence. This year, she woke at 4:30 a.m. to find out for herself.
"It's my first sidewalk sale. It is kind of intense," she said just before 8 a.m.
With 30 minutes of shopping left, Simon had bags full with running shoes and clothes.
"I've never been much of a shopper," she said, "but it's worth it."
Copyright 2017 The Lawrence Journal-World. All rights reserved. This material may not be published, broadcast, rewritten or redistributed. We strive to uphold our values for every story published.