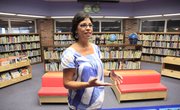 Kennedy School will turn 50 years old in January.
But this next school year will be unlike any other in its half-century serving Lawrence children.
As part of $4.6 million in budget cuts, the Lawrence school board closed the East Heights Early Childhood Center, moving 130 preschool students to join 300 kindergarten to sixth-grade Kennedy students this fall.
"A lot of work has been done," said Cris Anderson, who moved from East Heights to be the Kennedy principal. "We've been meeting with teachers, thinking about how to set the stage for a pre-kindergarten to sixth-grade leaning environment. I think everybody's really excited about it."
Many preparations are still in store for the school, 1605 Davis Road. The district is converting multiple classrooms on the southeast side of the school for the 130 preschool students.
To comply with fire codes, the district must add a second exit in all preschool classrooms. B.A. Green Construction of Lawrence will convert exterior windows into doors. Tom Bracciano, the district's division director for operations and facility planning, said the project costs about $70,000 from the district's capital outlay budget.
Those classrooms are also being stripped to the core to get new carpet, and plumbers have been working on upgrades for faucets.
"We're just kind of flipping spaces, making sure they meet code and trying to get everything in and the buildings clean for school to start," Bracciano said.
He hopes the new doors can be installed by next week so the district can get started in moving items from East Heights into Kennedy, because it's a race against the clock before school starts Aug. 11. An open house is scheduled for 5:30 p.m. Aug. 10.
Anderson and staff members are working on ways to integrate the early childhood programs into one building with the 300 Kennedy students. They've already merged the East Heights library collection into Kennedy's, and they brought items over from East Heights to upgrade the teacher's lounge.
Anderson hopes the improvements and a fresh start will pay dividends academically in the school's 50th year.
"Having some attention physically given to Kennedy is going to benefit the whole pre-kindergarten through sixth-grade environment here at Kennedy," she said.
— Reporter George Diepenbrock can be reached at 832-7144. Follow LJWorld.com education news at Twitter.com/LJW6NewsEduNews.
Copyright 2018 The Lawrence Journal-World. All rights reserved. This material may not be published, broadcast, rewritten or redistributed. We strive to uphold our values for every story published.