Past Event
When: Thursday, July 15, 2010, 5 a.m. to 9 p.m.
Where: Downtown Lawrence, Lawrence
Cost: Free
-->
-->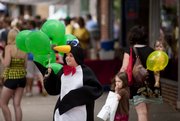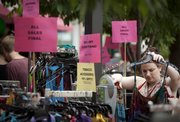 Most people take time off from work for vacations, getaways, days of relaxation.
Not Bob Davis. He's requested a day off Thursday so he can creep downtown early, the night still glowing with street lights, to slither through the crowds of the annual sidewalk sale.
"This will be the first year that I've taken a day off of work for the sidewalk sale," Davis says. "I'll probably just stay up all night and head over (at) around 5 a.m."
Davis is baited by the thrill of finding a bargain. And the retailers downtown are ready to thrill. Dan Hughes, owner of Sunflower Outdoor & Bike, 802 Mass., plans to knock down prices on boats, bike gear, footwear, outdoor clothing and equipment.
"It'll be a real smorgasbord of everything we do," Hughes says.
With more than 20 years of sidewalk-sale experience, Hughes says the peak hours are in the morning, after the sun slides into the sky and most people have wriggled free from the covers, with another crush of people pouring in around 5 p.m. or 6 p.m., just getting off of work.
"It's usually sort of a come-early or come-late deal, except the traffic is generally consistent throughout the whole day depending on the weather," Hughes says.
As far as profits are concerned, for Sunflower, the sidewalk sale trumps even Christmas.
"It's a nice shot in the arm for mid-July," Hughes says. "It's always our single biggest day of the year."
Rachel Ybarra, manager of the Toy Store, 936 Mass., says Davis has the right idea about pouncing on the sale early, before most people have clambered out of bed.
"I would say the best time to come is in the early morning," she says. "You get the first pick of all our deals, and it's not as hot outside. We have a lot of people who are right here at 6 a.m. ready to look through our stuff."
Those looking for unique items might want to stop by Wild Territory, which will have a plethora of products to pick through: posters, lab coats, stones, quartz, fossils and whale vertebrae, to name a few.
For Joyce Donham, owner of Wild Territory, 942 Mass., the sidewalk sale is a way to tidy up the store.
"We try to keep our prices as low as we can anyway," says Donham, "so what we put on sale varies every year. Sometimes we'll just have extra items that we want to clear out."
And well-aware of how off-putting the swelling crowds can be, Kris Bailey, owner of the Blue Dandelion, 841 Mass., launches her sale a week early.
"I have done it that way since I started," says Bailey. "It's such a big a process that doing it for one day seemed counterproductive."
The Blue Dandelion will have crib bedding, clothing, muslin blankets and shoes on sale, as well as hats and swimsuits. But the great thing about the sidewalk sale for Bailey: Throughout the day, customers trickle into the store to poke around, snatching up items that aren't knocked down.
"I usually do brisk business on items that aren't on sale, too," Bailey says.
But for Davis, it's the sale items that make the day so alluring.
"I really enjoy the sport of bargain hunting at the sidewalk sale," he says.
Copyright 2018 The Lawrence Journal-World. All rights reserved. This material may not be published, broadcast, rewritten or redistributed. We strive to uphold our values for every story published.